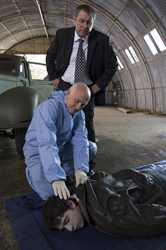 (PRWEB) August 31, 2017
PBS SoCal KOCE, the home to PBS for Greater Los Angeles and Southern California, is now a destination for drama on both Saturday and Sunday nights. The station's new 'Double the Drama' Weekends adds two hours of drama on Saturday nights, in addition to the two hours viewers expect on Sundays.
Beginning Saturday, September 2, PBS SoCal will air "Midsomer Murders," a suspenseful British drama set in the deceptively idyllic fictional English county of Midsomer. The program, full of eccentric characters, red herrings and quaint countryside scenery, will share a drama programming block with Australian favorite "Doctor Blake Mysteries." After 30 years away practicing medicine, Doctor Blake has returned to home to take over his deceased father's medical practice. He also becomes the police surgeon in his country town, where he uses forensic science to help solve murder mysteries.
The fall Sunday night drama line-up includes "Secrets of Six Wives" and "Endeavor" on Masterpiece. "Secrets of Six Wives" travels back in time with historian Lucy Worsley to the Tudor court to witness some of the most dramatic moments in the lives of Henry VIII's six wives, each of whom found a method of exerting her influence. This program combines drama with historical comment. "Endeavor" on Masterpiece, set in mid to late 1960's Oxford, England, centers on the early career of Endeavour Morse, who after leaving Lonsdale College of Oxford University, without getting his degree, then joins the police department as a detective.
In October, fall drama programming will include the third season of "Poldark" on Masterpiece. Based on the novels by Winston Graham, this season Poldark finds himself in revolutionary France while attempting to repair his relationship. Meanwhile, his nemesis is busy building his empire to crush the Poldarks.
On October 15, "The Durrells in Corfu," season two, continues the story Louisa Durrell, a widow who took her children from 1930's England to a Greek island, where they live their unconventional life -- loving, shooting, and animal collecting, all while her children are in search of her suitable mate.
Also in October, Paul Sabine is restoring Paris as the fashion capital of the world post-World War ll in "The Collection." His dresses are a sensation, and only his shady past and an inconvenient corpse block his way to success.
PBS SoCal's fall drama line-up leads into the second season of "Victoria," starting in January. In the new season, Victoria is adapting to motherhood following the birth of her first child, the Anglo-Afghan War is unfolding abroad, and the catastrophic Irish potato famine begins to wreak havoc.
ABOUT PBS SoCal KOCE:
PBS SoCal KOCE is the home to PBS for Greater Los Angeles and Southern California. We deliver the full schedule of PBS programs plus content that is for, about and by the people of Southern California. Our content is available free through four broadcast channels, at pbssocal.org, on our mobile apps, and via connected TV services. And we provide the community with early education resources and cultural and educational experiences through partnerships, events and grassroots outreach. PBS SoCal has offices in Century City, Costa Mesa, and Los Angeles. Connect with us at http://www.pbssocal.org, Facebook, Twitter and Instagram.