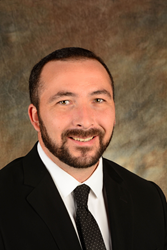 "Our Automobilia & Petroliana Division is leading the industry. John's excitement, knowledge, and professionalism is a great fit for the direction of the Gas & Oil department. - Dan Morphy, President, Morphy Auctions
Denver, PA (PRWEB) August 31, 2017
Morphy Auctions, the finest auction destination for fresh to the market collections, today announced that John Mihovetz has been tapped to lead the company's Automobilia & Petroliana Department. Morphy's is internationally recognized for its leadership in automobilia and petroliana and holds many sales records within these important categories.
Mihovetz, who has been Morphy's Automobilia & Petroliana expert since March, 2016, specializes in antique advertising, automobilia, petroliana, and motorcycle memorabilia. He has been professionally involved in the antique and vintage world since 2011, although he has been an enthusiast and collector of pre-World War II American ephemera, wild west, and country store themed finds since early childhood. In his new role, Mihovetz will be responsible for attending industry and collector's events on behalf of the company nationwide, all category consignment cataloging and grading, and deepening referral and partnership networks.
When asked about his vision for his department, Mihovetz said his goals include providing best in the industry lot descriptions, conservative and fully transparent grading, and truly personalized and accessible customer service for buyers and sellers worldwide.
According to Dan Morphy, President of Morphy Auctions, "Our Automobilia & Petroliana Division is leading the industry. John's excitement, knowledge, and professionalism is a great fit for the direction of the Gas & Oil department. He and I both share great expectations for this very important and growing new roll in the company!"
Morphy's next Automobilia and Petroliana event is scheduled for October 2, 2017 at the company's Denver facility. We welcome you to visit our gallery to view the sale's outstanding lots firsthand, or of course check them out online anytime at http://www.morphyauctions.com.
About Morphy Auctions:
Morphy Auctions, the finest auction destination for fresh to the market collectibles, is headquartered in Denver, PA. The company also has a satellite office in Las Vegas, NV. A full-service auction house, Morphy's presents over 35 premier auctions annually. The company's three-part mission includes ensuring consignor satisfaction with every auction, offering world-class customer service that goes above and beyond the call of duty, and providing relentless buyer support to create confidence for all clients seeking a trustworthy purchasing experience.
Morphy's team of specialists includes the nation's finest and most recognized experts in popular collecting categories including advertising; firearms; fine automobiles, automobilia and petroliana; coin-operated machines; antiques, fine, and decorative art; dolls, bears, toys, and trains; cast iron; coins; marbles; jewelry and wrist watches. Morphy Auctions is owned by President and Founder Dan Morphy, himself a lifelong and passionate collector of antiques, banks, and numerous other categories.  Morphy's has been in business since 2004 and has grown from two to over 65 employees in over a decade.
Morphy Auctions is located at 2000 North Reading Road, Denver, PA 17517.  We can be reached by phone at 877-968-8880, by fax at 717-336-7115, and by email at info(at)morphyauctions(dot)com.  Our auction gallery is open seven days a week: Monday through Friday from 9am to 4pm and Saturday and Sunday from 9am to 1pm.  For more information on Morphy's, please visit http://www.MorphyAuctions.com.