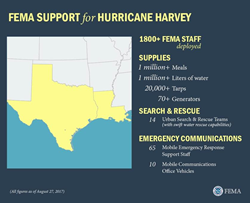 India Network strive to provide as much relief as possible to Harvey impacted members of community.
Orlando, FL (PRWEB) August 31, 2017
India Network Foundation, a US based non-profit community organization sponsors several projects in India and the United States. One of the major undertakings of the foundation is to provide affordable visitor health insurance for visitors of all ages (0 to 99 years old) and for pre-existing conditions using American Insurance companies. Every year thousands of families take advantage of this plan while inviting parents and grand parents to visit them in the United States.
Today, India Network Foundation is pleased to announce a donation of $10,000 (ten thousand dollars) as matching contribution to encourage everyone to contribute to help hurricane stranded students, visitors, and scholars in Harvey's unprecedented damage. India Network is striving to provide direct help to Indian communities affected by hurricane Harvey in Texas and Louisiana. Our focus is to help hurricane survivors with basic needs including food, clothing, and shelter.
India Network Foundation is inviting the community at large to donate generously to our 2017 Hurricane Harvey Relief Fund by completing the Harvey donation form on our website. India Network Foundation will match every dollar up to $10,000 contributed to help hurricane Harvey victims. All contributions must be submitted by September 10, 2017. Tax exemption certificates will be provided to all contributors. India Network Foundation is also eligible to receive matching grants from donor's employer.
"Our thoughts and prayers are with the flood victims and their families in Houston. Our goal is to help as much as we possibly can. We are asking everyone to help us achieve this goal by donating generously to the community in need." said Dr. KV Rao, Founder President of India Network Foundation. Anyone wish to contribute can directly donate thorough online donation form setup for Harvey using credit cards.
India Network Foundation will be partnering with Indian organizations in affected areas to make sure that the funds are going to the needy people. India Network is also planning to give donations for other expenses like water damage restoration and repair in the future.
About India Network Foundation
India Network Foundation, established as a US non-profit organization, has been helping the Asian Indian community in North America with programs and grants to academics from India for more than two decades. India Network Foundation sponsors visitor health insurance to tourists, students, temporary workers (H1 visa holders) and their families. All insurance products are administered by India Network Services.
For more information visit India Network Foundation pages.
About India Network Health Insurance
India Network Services is a US based company that administers visitor health insurance to transition residents, tourists, students, temporary workers and their families. Visitor medical plans are offered for all age groups with both fixed coverage, comprehensive coverage and with pre-existing condition coverage.