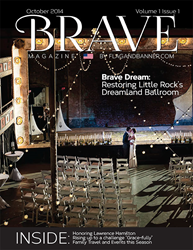 It confirms the importance of telling the stories of courage from everyday people. - Madison Monroe, Managing Editor
LITTLE ROCK, Arkansas (PRWEB) August 31, 2017
Tim Schultz, manager of Imaging and Preservation at the Department of Arkansas Heritage, sent a letter to Kerry McCoy of Arkansas FlagandBanner.com requesting permission to preserve and archive Brave Magazine in the Arkansas State Archives. Brave is a free bi-annual publication that features the heroism of everyday citizens.
"I was so honored and, frankly, a little overwhelmed when the request from Arkansas Department of Heritage was laid on my desk," said Madison Monroe, managing editor of Brave Magazine since 2014. "We, at Brave Magazine, always believed we were doing something special and important…but to have the State of Arkansas request all previous and ongoing copies of Brave to archive is a validation we never anticipated. It confirms the importance of telling the courageous stories of ordinary people. For me personally, it feels like winning the Academy Award!"
Brave Magazine was founded in 2013 and the first edition was published in 2014. The feature story in each edition spotlights an individual that "exemplifies courage and bravery" as determined by the editorial staff. Other regular articles include Fun with Flags, American Hero, Travel and Holidays, Food and a 'How to' column. The magazine currently distributes to 6,000 Arkansas customers of FlagandBanner.com.
Originally, the magazine was the brainchild of McCoy. It was during the FlagandBanner.com staff meetings that McCoy noticed employees sharing inspirational stories relayed to them by customers. It happened with such regularity, that she began to think about how FlagandBanner.com could share the stories with other people. The idea became Brave Magazine. The first bi-annual edition of Brave Magazine to distributed to 6,000 flag customers statewide in Arkansas. It has also been distributed, at times, to larger audiences such as Texas, Tennessee, Rhode Island, New York and other states in the FlagandBanner.com database.
Brave Magazine employs a creative writing style focusing on emotional story telling. It will now become a historical part of the Arkansas State Archives, which will be used for students, historians, genealogists and all those interested in researching the history of Arkansas.
The magazine will be sent on dates of publication to the Arkansas State Archives for microfilming purposes.