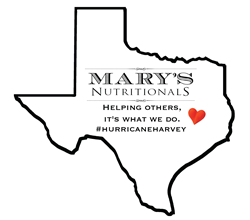 "At Mary's, our team envisions a world without pain, and when people are suffering, we feel it," said Lynn Honderd, CEO of Mary's Nutritionals
Denver, CO (PRWEB) August 31, 2017
Mary's Nutritionals (Mary's) today announced that it will pledge 10% of all sales on its website through Sept. 5 to the United Way Relief Fund to help those impacted by Hurricane Harvey. Numerous organizations, including the United Way, are working around the clock along the Gulf Coast to help the more than 400,000 individuals who are in need of disaster assistance. The United Way has promised that all contributions made to the United Way Relief Fund will be passed directly to the relief effort. With a multitude of customers and partners in Texas and Louisiana, Mary's is committed to supporting those in need.
"At Mary's, our team envisions a world without pain, and when people are suffering, we feel it," said Lynn Honderd, CEO of Mary's Nutritionals. "Right now, the people of Texas, Louisiana and surrounding Gulf Coast area, some of whom are our customers, partners, friends and family, are experiencing pain and devastation. We extend our whole-hearted support to them through this pledge."
Since 2013, Mary's has produced trusted pain management and wellness products with benefits ranging from seizure reduction to migraine relief to overall health improvement.
To learn more about the United Way Hurricane Harvey Relief Fund including how you can donate, visit https://www.unitedway.org/the-latest/press/hurricane-harvey
About Mary's Nutritionals:
Mary's Nutritionals envisions a world without pain, where proactive cannabinoid therapy and other natural approaches to wellness heal and eliminate discomfort. Mary's Nutritionals combines Mary's Medicinals experience crafting award-winning products for the legal cannabis community with the latest nutritional science to create plant-based products that nourish body, mind and spirit. More information is available at: http://www.marysnutritionals.com