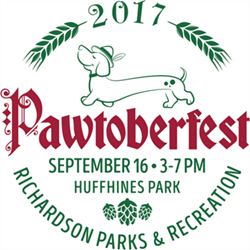 "It is so important for us to..... meet members of the Richardson community that love animals as much as we do." Joette White, President of Park Cities Pet Sitter
Dallas, Texas (PRWEB) August 31, 2017
Dallas and Plano pet sitting company, Park Cities Pet Sitter, has signed on to participate in Richardson's pet-friendly fall celebration, called Pawtoberfest. The second annual Pawtoberfest event will be held on Saturday, September 16th from 3pm to 7pm at Huffhines Park in Richardson. Huffhines Park is on Syracuse Drive, and is managed by Pawtoberfest's hosts, the City of Richardson's Parks and Recreation Department.
Anyone is welcome to attend the event, and bring their dog. In addition to having many pet friendly vendors, attendees can also sample delicious goodies from a variety of food trucks, sample craft beers, and listen to live music. Admission to Pawtoberfest is free, but special packages are also available. For $15 in advance or $20 at the gate, a special Pawtoberfest "Pawkage" can be purchased that includes a 2017 Pawtoberfest bandana, a 20 oz. beer mug, a voucher for one free beer, tasty treats for a pup, and $1 off all beer refills.
Joette White, President of Park Cities Pet Sitter, recently expanded the service area where her team of pet sitters works to include Richardson, and thus knew participating in Pawtoberfest was a great way to meet members of the Richardson community. "We have been providing great pet sitting and dog training services to Dallas and Plano for almost 25 years, and are thrilled to finally be able to include Richardson in our coverage area," said White. "It is so important for us to support events like Pawtoberfest, and to have the opportunity to meet members of the Richardson community that love animals as much as we do."
Park Cities Pet Sitter will have a booth at Pawtoberfest, as well as provide giveaways for people that are interested in learning more about the pet services they offer. Several members of Park Cities Pet Sitter's staff will be on hand to provide information about how in-home pet sitting works, and why choosing Park Cities Pet Sitter might be a great option for them.
About Park Cities Pet Sitter: PCPSI has served the Dallas/Plano areas 7 days a week, 365 days a year since 1992, and was recently named the 2017 Business of the Year by the National Association of Professional Pet Sitters. Pet sitting, daily dog walks, pet taxis, overnight sitting, pet supply shopping, litter box cleaning and dog training are all part of the services PCPSI offers. Park Cities Pet Sitter is bonded and insured, and all sitters are employees--not independent contractors. A manager is on-call 24 hours a day to handle any emergencies. Go to http://www.pcpsi.com to learn more.