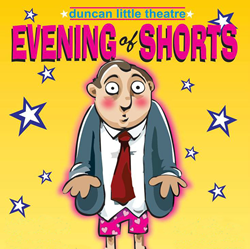 Duncan Little Theatre's "Evening of Shorts" is pure entertainment for the entire family!
Duncan, OK (PRWEB) September 06, 2017
Duncan Little Theatre brings back the popular format of "Evening of Shorts" this September. The performances will be held September 8, 9, 15 and 16 at the Marlow Opera House at 149 N 2nd St. in Marlow, Oklahoma. Show times are 7:30pm each evening. This year's "Evening of Shorts" is directed by Cindy Mann and produced by Beth Ann Hough.
The shorts performed will be:
"It's Not You, It's Me" -- A show all about the dating game, but especially the breaking up part! Starring…Sidni Blalock, Anthony Cox, Brian Hibbard, Valentina Jones, Tana Latham, Dustin McDevitt, *Servers- Clay Ward and Henry Ward.
"The M Word" -- Everyone approaches love differently, right? This couple takes it to a whole new level…the business level that is! Starring…Ken Jones and Elizabeth Pitts-Hibbard.
"Post Its" -- A poignant story about the life and love of a couple told through a series of Post It Notes! Starring...Tana Latham and Brian Hibbard.
New to the evening will be asking audience and cast to participate in "A Little Bit of Improv." DLT will play games and set up scenes and "make some stuff up"! There will be a silent auction from 7 pm until just after intermission in which the theatre will be auctioning off celebrity desserts and maybe a few other cool items. Don't miss this evening of fun! Tickets are $15 for adults and $10 for students/children. Tickets may be purchased at http://www.duncanlittletheatre.com or at the door.