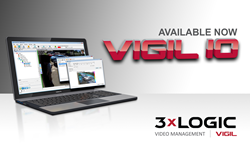 We're changing the rules of the game for video and access control with this highly-affordable, easy-to-install hosted and integrated solution. Matthew Kushner, 3xLOGIC CEO
Westminster, CO (PRWEB) August 31, 2017
3xLOGIC, Inc., a leading provider of integrated intelligent security solutions today announced the release of the latest version of its VIGIL Client software.
VIGIL™ Client 10 now offers seamless integration with Infinias CLOUD or Infinias Access Control local servers. Users can monitor doors in the Client tree view and can access live video (if a camera is available) as well as view events and people associated with those doors. Tools within the Client allow users to perform momentary unlocks, view live events, and search past events.
Integrated with infinias access control, VIGIL Client 10 now offers a unique set of improved features and benefits. Highlights include advanced reporting features such as heat mapping, restricting and locking video, and VIGIL Analog and PoE Settings, which allow users to manage analog cameras and PoE switches from a single unified interface.
3xLOGIC has broken new ground by making this solution the easiest to install in the industry. There are no wires from the access control system to the video system, all data exchange is through the software. Total ease of installation is achieved with an automated, cloud-based programing tool. Simply scan a QR code from a smartphone and installation is virtually complete.
"We're changing the rules of the game for video and access control with this highly-affordable, easy-to-install hosted and integrated solution," said Matthew Kushner, 3xLOGIC CEO. "This new integrated solution removes the expensive technical labor from the equation of installing commercial integrated video access control security. Powerful, integrated video and access isn't just for the Fortune 1000 anymore, this technology is available for just about any budget."
In addition to VIGIL Client 10, 3xLOGIC is also releasing updated versions of VIGIL Central Management software and is introducing the new Stereoscopic camera. VIGIL Central Management (VCM) enables users to monitor the status of VIGIL Servers and V-Series cameras. Designed with the integrator in mind, VCM allows you to proactively inform your end users of any potential health concerns with their VIGIL Servers or cameras.
The VISIX Stereoscopic camera is a special purpose, cost-effective people counting smart camera, combining state-of-the art 3D imaging technology with intelligent analytics capability to provide remarkable counting accuracy. The camera includes high-performance advanced analytics as a standard feature, improving count accuracy when compared to the current generation of thermal and stereoscopic cameras.
About 3xLOGIC
3xLOGIC Inc. has been a leading innovator in server and cloud-based security technology for 15+ years. The company is recognized for providing easy-to-use surveillance and business intelligence solutions that seamlessly integrate video, access control, and disparate data such as ATM, Point-of-Sale, analytics, and more.
3xLOGIC's video surveillance solutions are engineered for ease of installation, scalability and affordability combined with a managed services portfolio that enables integrators to effectively evolve from dealers to high-value strategic partners. For more information about 3xLOGIC, please visit our website http://www.3xlogic.com.
For 3xLOGIC Media Queries:
Bruce J. Doneff
Public Relations
843.476.3022
doneff(at)verizon(dot)net
###