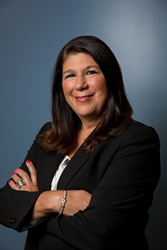 Maria Kennedy is a true trailblazer in DRTV.
McLean, VA (PRWEB) August 31, 2017
Electronic Retailing Association (ERA – Retailing.org) is proud to honor Maria Kennedy, Senior Vice President, Direct Response and Branded Content Distribution at Discovery Communications as the 2017 recipient of the esteemed 2017 ERA Lifetime Achievement Award. The ERA Lifetime Achievement award is the most prestigious honor bestowed to a direct response industry individual and will be presented at the Moxie Awards Gala on Tuesday, October 3, 2017 held in conjunction with ERA's 2017 D2C Convention in Las Vegas.
The ERA Lifetime Achievement Award is awarded to a deserving member whose career achievements have had a profound impact on the industry. Kennedy joins a distinguished list of ERA Lifetime Achievement Award honorees including industry pioneers Dan Danielson, AJ Khubani, Jeffrey Knowles, Kevin Harrington, Katie Williams, Billy Mays, Earl Greenburg, Rob Woodrooffe, Tim Hawthorne, Greg Renker, Joe Segal, Suzanne Somers, Mike Levey, and Ron Popeil.
"Maria Kennedy is a true trailblazer in DRTV. Over the course of her 25+ years in the industry, she has made a profound impact as one of the most respected direct marketers, not just through her work in paid programming and the rebranding of various television networks, but also through her volunteer service and knowledge sharing," says Poonam Khubani, Chair of the ERA Board of Directors and Vice President, International at TeleBrands. "It's our pleasure to be able to honor her with our most prestigious award."
Kennedy leads one of the largest direct response teams in the industry at Discovery Communications.
Kennedy joined Discovery Communications as a sales assistant in 1990 and now oversees the company's Discovery Direct Response division which has grown into 13 U.S. Networks. She played an integral role in launching the paid programming division on three of those networks. Kennedy was the first to offer five-minute avails on the Discovery Networks which she calls "Mini-Mercials" that began airing over 10 years ago. She also established in-house selling responsibilities for the U.S. Hispanic Networks, Discovery en Español, and La Familia for both the long and short-form business.
Prior to this, she worked at Viacom in national sales for MTV and VH-1 and was also a local broadcast media buyer for a small direct response agency. Kennedy began her career at Katz Independent Television.
In 2011, Kennedy was the first seller to offer advertiser friendly packages to DR clients leading Discovery to be one of the first networks to sell VOD successfully. Under her leadership, the team is now selling TVE, VR, Native and other Digital 360 packages. In 2015, Kennedy was inducted to the Direct Response Hall of Fame voted in by the members of the Direct Response Marketing Alliance (DRMA). Her career highlights include the launches and rebrands of BBCA, TLC, Travel Channel, Planet Green, Wings, Discovery Home and Leisure, Discovery Kids, Discovery Kids Syndication block, Investigation Discovery, OWN, SCI, Velocity, AHC, Destination America, Discovery Family and Discovery Life.
Kennedy is a former member of the Board of Directors for ERA, where she served on both the Nominating and the Executive Committee, and a former member of the Electronic Media Marketing Association. She has contributed many industry related articles for both ERA and DRMA, and is currently a longstanding member of the Response Advisory Board. Kennedy has also served on over 20 industry panels as both a panelist and a moderator.
For more information about the Moxie Awards Gala or to purchase tickets, please visit the Moxie Awards website. (To purchase tickets for the Moxie Awards Gala, guests must also be registered for the D2C Convention.)
About the 2017 ERA D2C Convention:
The 2017 ERA D2C Convention will be held October 2-5 at the Wynn Las Vegas. D2C is the must-attend event for leaders in the direct-consumer marketing industry. Every year, the D2C Convention hosts over 2,500 leading direct response industry professionals. With unlimited networking opportunities and the biggest show floor in the industry, direct response marketers can grow their business, learn best practices from the experts, and get face to face with the biggest names in the industry. The ERA Moxie Awards Gala will take place Tuesday, October 3. To learn more about D2C, visit d2c.retailing.org.
About the Electronic Retailing Association:
The Electronic Retailing Association (ERA) serves as the exclusive trade association representing the $350 billion direct-to-consumer marketplace. ERA membership spans the globe to encompass all levels of direct marketers, from start-up companies to global leaders that employ the power of direct response to market across all platforms including television, digital media and radio to achieve a consumer-direct, measurable and accountable response. In addition to helping grow its members' business opportunities and profitability as a major resource for networking, business tools and information, ERA is also the voice of the direct-to-consumer industry in the nation's Capital, working daily to protect the regulatory and legislative climate in an ongoing effort to ensure direct response marketers' ability to bring quality products and services to the consumer. Through its acclaimed self-regulatory guidelines, ERA is also dedicated to building consumer trust in direct response-marketed products and services. To learn more about ERA, visit Retailing.org.