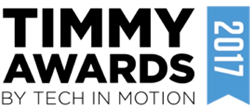 Tom Fedro, President of Paragon Software Group Corp., has been named an Orange County finalist in the "Best Technology Manager" category in Tech in Motion's Third Annual Timmy Awards.
Irvine, Calif. (PRWEB) September 01, 2017
Tom Fedro, President of Paragon Software Group Corp., has been named an Orange County finalist in the "Best Technology Manager" category in Tech in Motion's Third Annual Timmy Awards, which recognize the top workplaces for tech professionals. Fedro was chosen from a field of more than 275 nominees and joins the ranks of past notable finalists including Jim Plush of CrowdStrike, Mike Selberis of Glidewell Laboratories and Nick Newsom of Ytel.
"Tom is a rare breed of top-level executive who takes a personal interest in his employees' success – both in business and in life. Although technology is intrinsic to his business DNA, he recognizes that people and relationships matter most, and he has made a career out of putting employees and culture first," said Ryan Gilford, National Sales Manager for Paragon.
Fedro co-founded Irvine-based Paragon Software Group Corp. in 2008 and spearheaded the business strategy and operations plan for the company, while also hiring the team for its execution. Paragon specializes in disaster recovery and backup software solutions for small business and midmarket enterprises along with embedded file system driver technologies used by large manufacturers of consumer devices including Cisco, Seagate, Western Digital, ASUS, Toshiba, Hewlett Packard, Hitachi and many others.
The local community can vote online through September 8 to help choose who represents the best of Orange County tech. Votes for Fedro can be cast on his finalist profile page, which can be found online here.
"The Timmy Awards aim to celebrate the companies and managers that make technological innovation possible," says Mandy Walker, Director of Marketing at Tech in Motion and Motion Recruitment Partners. "Since the Timmy Awards were created in 2015, over 400 finalists have been celebrated for creating work environments that enable growth in the technology of various industries."
Winners will be chosen by a panel of expert judges and community votes. The complete list of 2017 Orange County finalists for the Timmys is available here for all four award categories, highlighting tech work culture, workplace diversity and management as well as startups.
Award winners will be announced live at the Orange County Timmy Awards on September 21 at UCI Applied Innovation in Irvine, where members of the Orange County tech community can attend for free and meet the finalists. Previous winners have included innovators such as LearnVest, Venmo, Trip Advisor and many more. For details on the event, past winners, or the Timmy Awards in all 10 cities they take place in, click here.
About Tech in Motion Events & The Timmy Awards
Tech in Motion is a North American events series that brings local tech community professionals together to connect, learn, and innovate. What started as a collaborative project between IT recruiting firms Jobspring Partners and Workbridge Associates in 2011, grew into an organization of over 85,000 members across 11 chapters in North America including Boston, Dallas, New York, Philadelphia, DC, Chicago, San Francisco, Silicon Valley, LA, Orange County, and Toronto. Please visit http://www.techinmotionevents.com for more information about our notable speakers, sponsors and events.
About Paragon Software Group
Paragon Software Group is an innovative software developer focused on two dynamic growth markets. The company's comprehensive product line for the data storage market addresses the needs of data security, storage and management for PCs, servers and networks. A second portfolio of products focuses on mobile productivity applications for handheld devices. Founded in 1994, Paragon Software Group has offices in the USA, Germany, Japan, Poland, Russia and China, delivering its solutions to consumers, small business and enterprise clients worldwide through a network of value added resellers, distributors and OEMs as well as online through the company website. Paragon Software Group provides technology to a host of world-class companies and partners, including Cisco Systems, Dell, HP, Western Digital Corp., ASUS, Seagate, Toshiba, LG Electronics, Logitech, Buffalo, Acer, EMC/Iomega, Siemens, Lenovo, Microsoft, Motorola, Nokia, and more. For more information, please visit the company website at https://www.paragon-software.com/.