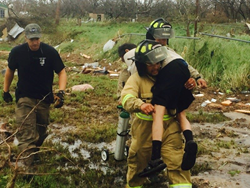 SAN ANTONIO, Texas (PRWEB) August 31, 2017
Two hundred Friedrich Chill room air conditioners, totaling 10,400-pounds of window A/C units worth an estimated $55,000, will be delivered by Friedrich employees tomorrow to Rockport, a Texas coastal town that has been devastated by Hurricane and Tropical Storm Harvey.
The donated Friedrich A/C units will be used by the Rockport Volunteer Fire Department, which is struggling to provide shelter for emergency responders in the area, including law enforcement officers, volunteer firefighters and emergency medical personnel and dispatchers, after many have lost their own homes and businesses. As a result, nearly 100 emergency responders are currently camped out in the tiny Rockport fire station, where conditions are exhausting, uncomfortable and cramped. The situation is similar across the county, in fire stations and police stations alike.
"The destruction is unfathomable and the community desperately needs help, so we're doing everything we can to keep our local emergency responders in the area," said Gillian Tate, volunteer firefighter. "Those of us who still have homes standing in the area must get them up and running as soon as possible with water, showers, and air conditioning, to provide adequate shelter for our emergency responders so they can continue to provide assistance and support for so many here who need it."
Earlier this week, Tate posted a plea on Rockport Volunteer Fire Department's Facebook page, asking for a donation of air conditioning units to help emergency responders throughout Aransas County to start rebuilding their own lives while they work around the clock to assist the community. Having witnessed the wrath of Harvey on so many local communities in horror, San Antonio-based Friedrich didn't hesitate when it saw Rockport's request for the large donation of air conditioners.
"Friedrich contacted us and said, 'Tell us what you need,'" said Tate. "I said we have an urgent need for 50 A/C units, but we could really use 200. They said, 'Consider it done.'"
Because freight transportation to the area is severely limited due to the extensive storm damage, Friedrich employee volunteers are handling the transportation and delivery themselves, making the 175-mile journey to deliver the units directly to the Rockport Volunteer Fire Department tomorrow. Local officials there will coordinate the distribution of the units to emergency responders throughout the county, based on individual needs.
"With a nearly 140-year history in Texas and so many strong ties to these communities, we are grateful to be able to lend a hand and hope that it will provide some relief to those who are suffering so much right now," said Chuck Campbell, CEO of Friedrich.
In the wake of Harvey's devastation, small towns are doing what they can to combat a shortage of relief assistance. According to Tate, with the focus of efforts understandably concentrated in the Houston area, support from individuals and companies like Friedrich are now even more essential for smaller communities like Rockport.
"Our emergency responders are literally a lifeline to getting our communities back on their feet," said Tate. "They are working around the clock so right now, there's people sleeping in the middle of the room while meetings are being held and we're trying to get things accomplished. People are getting burned out and exhausted. For them to be able to help others, our first step has to be to get them back home. We simply can't do that without this kind of support."
To learn more about donating or how to help provide assistance, visit the Rockport Volunteer Fire Department Facebook page https://www.facebook.com/RockportFire/
About Friedrich Air Conditioning Co.
Founded in 1883 in San Antonio, Texas, Friedrich has manufactured room air conditioners since 1952. For more information, visit http://www.friedrich.com.