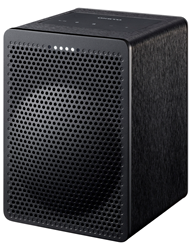 Upper Saddle River, NJ (PRWEB) August 31, 2017
Onkyo today unveils the game-changing Smart Speaker G3 (VC-GX30) combining the intelligence and abilities of the Google Assistant and Chromecast built-in multi-room music streaming with Onkyo's acclaimed high-fidelity sound.
The Smart Speaker G3 is Onkyo's first speaker to utilize Google Assistant to provide voice-controlled information, audio entertainment distribution and home automation in a hands-free package capable of serving immersive hi-fi sound.
Onkyo's Smart Speaker G3 can answer questions, provide weather and traffic updates, read out recipes, set reminders, provide travel information, and enable online shopping just by voice. Google Assistant offers compatibility with leading home automation apps for smart device control, allowing users to perform a variety of tasks such as adjusting room temperature and controlling lights by voice.
As well as requesting any music for playback on Smart Speaker G3, users can stream from integrated services including Google Play Music and TuneIn to Chromecast built-in speakers, AV systems, and hi-fi components in any room. Just say "Ok Google" and request a song. Operations such as volume control and song selection can be performed by voice via the Smart Speaker G3.
Audio entertainment from apps supporting Chromecast built-in for iPad®, iPhone®, Android™ phones and tablets, Windows® PC, Mac®, and Chromebook™ can also be streamed to wireless speakers, sound bars, AVRs, and hi-fi systems by tapping the "cast" icon. With a variety of products supporting Chromecast built-in, including popular models from Onkyo and Pioneer, families can enjoy seamless voice-activated multi-room audio over 5 GHz/2.4 GHz Wi-Fi® on their choice of device.
Onkyo breaks new ground with the Smart Speaker G3 by tasking its expert engineers to create a speaker capable of delivering superior high-fidelity sound from a small footprint. Designers computer-modelled a wooden acoustic-suspension enclosure to eliminate standing waves and vibration that compromise performance.
A custom woofer with massive motor is held in place by a thick metal surround, enabling 1.5 times the cone excursion of conventional drivers for wide-spectrum reproduction. The speaker produces dynamic sound with taut bass and clear mid-range, with high frequencies aired by a quality soft-dome tweeter.
The Smart Speaker G3 is driven by efficient yet responsive switching amplification with dynamic noise-reduction DSP technology to assure unstrained sound at any volume.
Initial setup and configuration of integrated subscription-based music applications, compatible smart devices, and voice recognition is quick and simple using the Google Home app, with Google Assistant guiding the one-time process.
With millions embracing AI in connected homes, Onkyo anticipates the Smart Speaker G3 will appeal to people seeking a solution with authentic hi-fi credentials earned over a 70-year history. Those with AVRs, sound bars, and wireless speakers featuring Chromecast built-in also gain an affordable upgrade path to voice-controlled multi-room playback.
*Please check compatibility of the Google Home app with your device and OS at the App Store or Google Play. Some music services required a paid subscription and are subject to regional availability. Multi-room playback cannot be guaranteed by Onkyo in all wireless network environments.