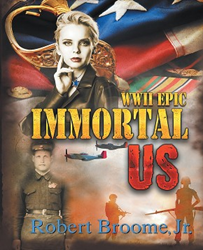 "This story is about the immortal people in the United States, where when one person falls, another takes his or her place." Author Robert Broome, Jr.
(PRWEB) September 11, 2017
Author Robert Broome, Jr.'s military comrade and friend, Private Michael Davidson, USMC, often spoke about his family's history while the two served together aboard the USS Portland on a NATO exercise in the north seas.
Davidson recounted the military heroes within his family, from the Prussian War in Austria in the 1870s, through both world wars fighting for the U.S. His family immigrated to America from Austria in 1875. Davidson's stories to the author ended abruptly when the young man was killed at age 26 in the U.S. Marine Corps barracks bombing in Beirut in 1982.
Davidson's family is not famous, but what they gave to their adopted country can't be measured in anything but courage. Davidson's great-grandfather's eldest son was buried in France after dying as a U.S. Marine in Belleau Woods, France. Michael Davidson's Uncle Michael fought as a USMC captain during World War II, dying in the German Reichstag while pushing to take Berlin in 1945. His aunt, Lieutenant Anna Davidson, was a British/American spy. After she was betrayed by a double agent, she was shot while trying to evade capture.
Says the author, "This story is about the immortal people in the United States, where when one person falls, another takes his or her place. Private Davidson's mother quotes 'that we all have to do our part to make the United States Immortal. No matter the color, no matter the religion, no matter the ethnicity.' This story is about the classic American family. This story is about US."
About the Author: Robert Broome, Jr. resides in King George, Virginia. He retired after 39 years of military and civilian federal service. He wrote this book after a Marine Corps buddy asked him to tell his family's history upon learning Broome wanted to be an author.
"We are proud to be the publisher of this true story citing the heroism and honor of one American family. Though they gave their all for their country, no one outside their family knew of their bravery until this book," says Robert Fletcher, CEO of Strategic Book Publishing and Rights Agency.
IMMORTAL US: WWII EPIC (ISBN: 978-1-63135-959-0) is now available for $22.95 and can be ordered through the publisher's website:
http://sbpra.com/RobertBroome or at Amazon.com or Barnesandnoble.com.
WHOLESALERS: This book is distributed by Ingram Books and other wholesale distributors. Contact your representative with the ISBN for purchase. Wholesale purchase for retailers, universities, libraries, and other organizations is also available through the publisher; please email bookorder(at)sbpra(dot)net.