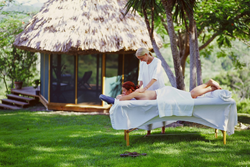 one of the most stunning, relaxing settings imaginable
San Ignacio, Belize (PRWEB) September 05, 2017
The Lodge at Chaa Creek has just posted an updated Hilltop Spa menu that blends traditional treatments like ancient Maya botanicals and Swedish massage with the latest products and techniques to offer guests "unique experiences that refresh both the mind and body," the Belizean jungle lodge's general manager announced.
"While the timeless beauty of the surrounding rainforest never changes, we're constantly looking at new trends and natural products," Bryony Fleming Bradley said.
"Providing a service that blends thousands of years of tradition with cutting-edge practices and technologies is always a balance of keeping the things that work so well while introducing new treatments and products as they become available," she added.
Before assuming the general manager position from her mother in this family owned and operated Belizean eco-resort, Ms Bradley founded and then managed the Hilltop Spa.
"It was a challenge to build a full service, professional spa in such a pristine rainforest location that, at the time, was fairly remote," Ms Bradley explained, "But it was something I was passionate about, and felt Chaa Creek's guests would appreciate.
"Fortunately, our guests responded enthusiastically, and the Hilltop Spa was pretty much a hit from day one," she said.
Ms Bradley said that while the spa's early success was driven by positive word of mouth, its environmentally friendly practices, use of forest botanicals used by the local Maya for thousands of years, professional staff and stringent quality controls have generated global recognition.
Since then, the Hilltop Spa has received recognition from travel authorities such as Lonely Planet and TripAdvisor and was recognised as one of the "World's Top Ten Value Spas" by the authoritative Gayot's Guide.
Caribbean travel site Caribya described its location "above the Macal River with a panoramic view of the Maya Mountains and lush Caribbean rainforest," as "one of the most stunning, relaxing settings imaginable."
Ms Bradley said the tranquil rainforest setting combines with the care of professional therapists and a wide offering of services to create, "deeply satisfying experiences that refresh both the mind and body."
"We're really fortunate to have this amazing blend of setting, staff and products. We have ready access to locally sourced botanicals that the ancient Maya identified centuries ago as having healing and rejuvenating properties, and also use some of the world's most recognised spa, beauty and healthcare products sourced from Italy and around the world.
"For example, our use of chocolate and our chocolate body wraps reflect the local ancient Maya's cultivation and reverence for cacao, and combine with modern techniques to create an effect our guests say is magic."
Ms Bradley said guests also welcome the wide range of traditional and creative massages that include traditional Swedish, a "Caribbean Cloud Nine", "Invigorating Rainforest," and other massages.
A selection of full body treatments include seaweed wraps, salt mousse exfoliating treatments, body polishes and body wraps such as Pineapple-Papaya- Crème Fraiche, yogurt and patented lumafirm ™ treatments.
Facials, pedicures, waxing, eye treatments and other familiar spa services are also on offer, she said.
"Chaa Creek has always tried to show that Green, sustainable tourism doesn't need to come at a cost to luxury, or quality amenities and service, and this is a philosophy I wanted to extend to the Spa. I also wanted to prove that a spa in tranquil location in the midst of a 400-acre private nature reserve in Belize can offer the same level of service as one in a big city," Ms Bradley said.
"The feedback we receive from our guests and travel writers say we succeeded. But that doesn't mean the search for continual improvement is ever over," she added.
The Lodge at Chaa Creek is a multi-award winning eco resort set within a 400-acre private nature reserve along the banks of the Macal River in Belize. It was recognised by National Geographic with first place honours at the 2017 World Legacy Awards held in Berlin.
ENDS