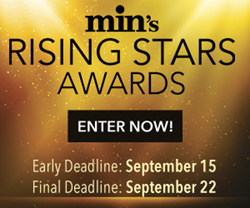 "It's exciting to applaud the accomplishments of our industry's most talented young professionals." —Robbie Caploe, Publisher
New York, NY (PRWEB) September 01, 2017
min's Rising Stars Awards acknowledges exceptional young professionals across the magazine media industry—editors, marketers, sales execs, designers, brand strategists, and more. The prestigious honor has helped dozens of young professionals accelerate promising careers in magazine media.
"It's exciting to applaud the accomplishments of our industry's most talented young professionals," said Robbie Caploe, Publisher of min. "Their game-changing ideas are laying the groundwork for the evolution and future success of magazine media brands."
2016 Honorees Included:

Molly Battles, Senior Public Relations Manager, Bonnier Corporation
Marissa Brown, Sales Manager, Forbes Media
Lucie Fink, Video Producer & Lifestyle Host, Refinery29
Dave Giumara, Global Head of Digital Trafficking, Bloomberg Media
John Hendrickson, Deputy Editor, Esquire.com
Chloe Johnston, Director of Advertising Partnerships, Atlantic Media
Mary Ellen Maddalone, Account Manager, Better Homes and Gardens
Alyson Shontell, Editor-in-Chief, Business Insider
Windsor Hanger Western, President & Co-Founder, Her Campus Media
Melissa Wiley, Digital Producer, Smithsonian Enterprises
This year's honorees will be celebrated by the min community and profiled on minonline.com. The early deadline to enter the competition is Friday, September 15 with a final deadline of Friday, September 22. For questions on the program or entry process, please contact Zoe Silverman at zsilverman(at)accessintel(dot)com or 301-354-1662.
About min:
As magazine media evolves at a breakneck pace, min continues to be a trusted, one-stop resource for the mass-consumer magazine media industry. For more than 70 years, min has been serving its community with unparalleled content, events and awards programs that spotlight successes and innovations within the community and the wonderful teams behind them. For more information, visit http://www.minonline.com.