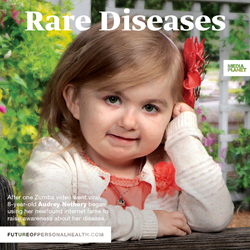 New York, NY (PRWEB) September 01, 2017
Rare Diseases affect 30 million people in the United States and 350 million people globally. Mediaplanet's cross-platform edition of "Rare Diseases" calls upon researchers, companies, policy makers and clinicians to do more research and raise awareness of the importance of advocating for the rare disease community.
Patients with rare diseases need care from doctors with expertise in that disease, but finding this expert can be challenging. XpertDox is an innovative website dedicated to helping rare disease patients find the best treatment options. They have built a unique database of 130 specialties, 6,000 diseases, 200 procedures, 800,000 doctors, and 4,500 hospitals. Powered by their proprietary algorithm, XpertDox evaluates all doctors and hospitals within the United States on clinical expertise, research, and educational contributions. Click here to learn more.
About XpertDox:
XpertDox is a team of doctors, IT specialists and business professionals based in Birmingham, AL, Scottsdale, AZ and San Jose, CA. They are a highly motivated team driven by a passion for providing unbiased, objective, well-rounded and personalized recommendations for patients without the outside influence of industry, hospitals or physician groups.
About Mediaplanet:
Mediaplanet is the leading independent publisher of content marketing campaigns covering a variety of topics and industries such as Health, Education, Lifestyle, Business and Technology, and Corporate Social Responsibility. We turn consumer interest into action by providing readers with motivational editorial, pairing it with relevant advertisers and distributing it within top newspapers and online platforms around the world. Please visit http://www.mediaplanet.com for more on who we are and what we do.
Press Contact:
Sarah Wasser
sarah.wasser(at)mediaplanet(dot)com
(646) 979-2831