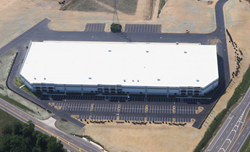 VIENNA, VA (PRWEB) September 05, 2017
LaserShip, an e-commerce parcel carrier servicing the Eastern and Midwest U.S., announced today the opening of its largest facility in Groveport, Ohio. The newly built facility combines its sortation and delivery facilities into one in order to meet the increasing e-commerce delivery demand.
"We are experiencing tremendous e-commerce growth and evolving our infrastructure to meet the scale of the industry," reports Josh Dinneen, Senior Vice President at LaserShip. "This Columbus move is the first of several major enhancements we're making prior to the holiday season, and we'll be announcing more soon."
Developed and built by Duke Realty, the new LaserShip facility is more than double the size of its previous location and located three miles from the Rickenbacker International Airport, and approximately 20 minutes from John Glenn Columbus International Airport and Downtown Columbus. The delivery center will service the Columbus metro area while the sortation center will service the Midwest.
In order to meet the increasing demand of residential e-commerce deliveries from its new facility, LaserShip is currently looking for independent contractors to partner with to deliver packages in the Columbus area. For more information, those interested may visit http://www.lasership.com/drivers.php.
About LaserShip, Inc.:
LaserShip is an e-commerce parcel carrier that provides delivery solutions for shippers that desire reduced transit times and increased flexibility within their supply chain. Founded in 1986, LaserShip has evolved into the leading provider of same-day and next-day delivery services for e-commerce and product- supply businesses, including five of the largest e-retailers in the U.S.
For more information, visit http://www.lasership.com.
###