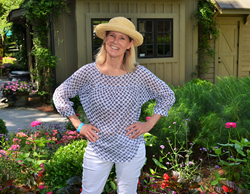 Atlanta, GA (PRWEB) September 01, 2017
Joe Lamp'l, Creator & Executive Producer of Growing a Greener World®, announced today that Erica Glasener will join his team as Senior Producer for Growing a Greener World, the television show. Now in its 9th season, this award-winning TV show airs on national Public Television and features organic gardening, green living and practical tips to lighten our environmental footprint. Each episode focuses on compelling and inspirational stories of people making a positive impact on the planet through gardening and shares DIY information that we can all use at home. This gardening series covers everything from growing your own food, urban homesteading, sustainable design, and hobby farming to seasonal cooking, canning and preserving the harvest.
Glasener-horticulturist, former television host and well-known gardening author—is excited to join Joe and to work as Senior Producer for "Growing A Greener World." For the past 2 ½ years she was the Marketing Manager for Gibbs Gardens, a 220 acre public garden in Ball Ground, GA. Glasener is perhaps best known for hosting "A Gardener's Diary" for 13 years on Home and Garden Television (HGTV). She is also the author of Proven Plants Southern Gardens and co-author of Getting Started with Gardening in Georgia and Month-By-Month Gardening in Georgia. Glasener lives and gardens in Atlanta with her husband and daughter, striving to keep her weeds in check without the use of chemicals. She is particularly proud of her bumper crop of blueberries in 2017 proving that some plants really are low maintenance.
Look for a great lineup of shows with compelling stories in 2018, when "Growing A Greener World" will celebrate its 9 year anniversary.
For more information about what stations GGW airs on in your region or to watch episodes online visit https://www.growingagreenerworld.com/