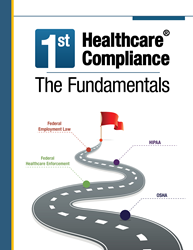 Delivered via four interactive modules, the course can be completed in four hours.
Wilmington, Delaware (PRWEB) October 06, 2017
First Healthcare Compliance (FHC), an industry leader in software for healthcare compliance program management, today announced the release of 'The Fundamentals' online course and guidebook.
This much-needed practical course gives healthcare professionals the substantive knowledge they need to meet compliance challenges in today's closely scrutinized healthcare industry.
The offerings are packed with informative content that covers the essentials of HIPAA, OSHA, Federal Healthcare Enforcement and Employment Laws.
"As experts in healthcare compliance, we encounter many professionals who are new to a compliance role and searching for a way to learn the basics of healthcare compliance and how to apply them," says Dr. Jill Brooks, FHC Senior Director of Education. "The Fundamentals course takes a user-friendly approach to teaching these important principles and practices."
Delivered via four interactive modules, the course can be completed in under four hours. A learner may begin with any of the modules and follow a flexible schedule. Those completing the course can earn a certificate by taking a 100-question exam to display mastery of healthcare compliance fundamentals.
"Our goal is to help compliance professionals increase their knowledge through a timely, efficient and pragmatic approach to providing the information and resources they need," says Sheba Vine, FHC Vice President and General Counsel.
The online course contains easy-to-understand instructions and is offered with the 100-multiple choice certificate exam for $229. Learners can supplement the course with the guidebook, which includes thoughtful discussion questions and color images added throughout for $49.99. A package containing The Fundamentals course, guidebook and certificate exam is offered at $259 and special group rates are available.
About First Healthcare Compliance
Founded in 2012 in Wilmington, DE by Julie Sheppard, the cloud-based First Healthcare Compliance software is the most comprehensive solution available to address compliance program management needs of private practices, hospital networks, healthcare billing companies, and long-term care facilities.