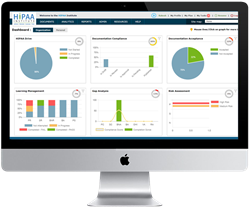 A real time dashboard to make compliance program reporting easy.
Durham,NC (PRWEB) September 07, 2017
Healthcare providers, who might have been agonizing over how to be in complete compliance with all the requirements of HIPAA, HITECH, and the affiliated rules, namely the Privacy Rule, Security Rule, and the Breach Notification Rule, can now breathe easier. There is a HIPAA automation tool which helps them navigate the labyrinth of requirements with a 52-step guidance to cover all the aspects of HIPAA compliance. With a HIPAA expert as their personal coach, they can perform their own HIPAA audits to ensure compliance standards are met anytime.
User Friendly Web Based Software
This easy to use software was developed to ensure that all healthcare providers can benefit from it, regardless of the size of the organization. From gap analysis to identify areas of vulnerability within the organization to solutions on how to remedy them, and training every member of the team, this tool has it all. The risk assessment process must identify the assets and evaluate all threats, vulnerabilities, impact, likelihood and mitigating controls associated with those assets.
The tool gives the subscriber access to eight HIPAA compliance checklists which have several sets of questions. As the provider or security officer of the covered entity responds to the questions, the compliance readiness score which is generated in real time, gives a clear indication of the gaps in the HIPAA compliance plan of the concerned organization.
Highlights of the Software
The automation tool generates administrative reports to enable the covered entity to identify whether the administrative safeguards mandated by the Security Rule have been instituted or not. This would include creating an inventory of all the assets within the organization — data, hardware, software, personnel, or a physical facility. The technical safeguards would verify that access controls are in place; identify potential threat events, relevance of the events, and the threat sources that could initiate such events. Since newer threats keep cropping up with alarming regulatory, a periodic risk assessment with concomitant risk analysis is necessary for effective risk governance.
Separate Admin Dashboard
For organizations and facilities which have several departments, and are spread over multiple geographic locations, the software's admin dashboard is particularly useful. Should they so desire, the training schedules of each of their personnel can be tracked. Administrative documents can be scheduled for periodic renewal. As mentioned by Mr. Amit Sarkar, President of HIPAA Institute, "Dashboard will help department heads analyze and keep a tab on their compliance progress while also keeping an eye on their employees' participation on compliance activities." Additionally, a covered entity can decide whether to periodically all policies and procedures, and modify them if required. This feature makes navigation of all HIPAA compliance challenges a piece of cake.
Some of the more enticing features of dashboard reporting are:
1. Track your compliance program status with just one click. You don't need to guess what's happening in your compliance program, or how far you have gone in creating policies and procedures. Just check the status at one place to determine the next strategy.
2. Watch your documentation compliance status to understand your policy and procedure flow. You don't need to ask your employees to give you the compliance status — just keep a tab on the dashboard to monitor all your employees' compliance activities.
3. Know when your employees read and accept the policies and procedures that you have created.
4. Know the progress of your compliance plan implementation. With gap analysis reporting, you can immediately track the improvement of your program with compliance scores in real time.
5. Track your risk assessment performance. With risk assessment reporting, you can track your compliance score as you progress in your assessment.
6. Keep an eye on your employees' training. Assign training programs to your employees, and get updates on their training status as to how many rounds have been completed.
For more information visit - https://www.hipaainstitute.com/automation-tool
About Company
HIPAA Institute, a part of ProEdTech, LLC, has developed a best-in-class, web-based solution that makes it faster, easier, and more cost-effective for organization to stay HIPAA compliant. HIPAA Institute's products and services are developed by leading HIPAA compliance experts of the industry. Our experts are leading consultants and educators in HIPAA-HITECH compliant topics with complete insight into Confidentiality, Integrity and Availability of patient health information in different forms like electronic, paper, etc. For more information visit - https://www.hipaainstitute.com/