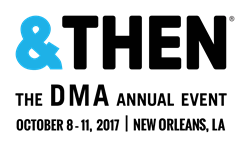 (PRWEB) September 05, 2017
In response to shifting roles of management consultancies and technology companies, five senior brand marketing executives will discuss their strategies for selecting strategic partners. The panel titled "Ad Agency or Consultancy? Who's the Best Partner?" will be hosted by the Data & Marketing Association (DMA) at &THEN, DMA's Annual Event (October 8-10 in New Orleans). It will be moderated by Eva Reda, SVP and GM of Strategic Partnerships at American Express, and feature additional marketing leaders from Comcast, JPMorgan Chase, Microsoft and Nutrisystem.
"Data and technology are evolving the needs of marketing organizations, and there is a wide array of partner companies which are scurrying to fulfill the new requirements of coveted brand clients," said Reda. "Selecting the right partner depends heavily on the needs and internal capabilities of a given company, so it will be fascinating to hear the different approaches and mindsets of the organizational leaders who will join me on stage."
"The selection of agency and consultancy partners is a nuanced and increasingly complex process involving many managers who are tasked to identify the right partner for a given initiative or function," said Keira Krausz, Executive Vice President & CMO of Nutrisystem, Inc. "I'm looking forward to sharing our best practices and hearing how my fellow panelists tackle this as well."
The speakers on the panel, to take place on Monday, October 9, include:

Susan Canavari, Chief Brand Officer, JPMorgan Chase & Co.
Keira Krausz, Executive Vice President & CMO, Nutrisystem, Inc.
Jennifer Marcou, General Manager, Office Relationship Marketing and Privacy, Microsoft
Luci Rainey, Senior Vice President, Consumer Marketing, Comcast
Moderator: Eva Reda, SVP and GM, Strategic Partnerships, American Express
"Today, a brand's success can be largely determined by the quality and caliber of partners they choose," said Data & Marketing Association CEO Tom Benton. "These five DMA board members are leaders and innovators in their field, and they know what it takes to select best-in-class partners. We are privileged to have their expertise on DMA's Board of Directors and eager to share their perspectives with &THEN attendees in New Orleans."
In addition to the "Ad Agency or Consultancy? Who's the Best Partner?" session, Deloitte Digital's Chief Executive for Creative and Content Alan Schulman will be joining &THEN as a keynote speaker on Tuesday, October 10th. Schulman is a seasoned branding, advertising and digital agency creative veteran – now the first major creative agency executive to lead one of the Big Four Consulting firms' creative offerings – Deloitte Digital. He will share with &THEN attendees how savvy brands are improvising in real time and leveraging the power of "nowness" to create emotionally resonant data-driven creative.
&THEN 2017 will take place over two and a half days, October 8-10 in New Orleans. Additional programming will be announced in the coming weeks. Media interested in attending can contact Mike Uehlein at muehlein(at)thedma(dot)org.