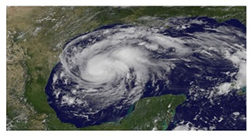 "Donations are welcome at all levels. We will be matching all donations of up to $5,000." Sheri Greenhaus, Managing Partner, CRMXchange
Sarasota, Florida (PRWEB) September 07, 2017
The numbers are so staggering that they defy belief. Nearly 52 inches of rain have fallen from Hurricane/Tropical Storm Harvey over five days, a deadly new record for a storm in the continental US, according to the National Weather Service. That represents 20 trillion gallons of water… enough to meet the needs of New York City for five years.
The estimates of total property damage are still being compiled, but the current assessment is at $190 billion and climbing. Over 185,000 homes are said to be damaged or destroyed. Approximately 364,000 people now registered for assistance from FEMA (Federal Emergency Management Agency) as of the end of August with 10,000 people who had to rescued by Federal Forces and more than 42,000 in shelters. 80% of Texans have no flood insurance.
While these devastating statistics boggle the imagination, they don't even begin to describe the impact on the lives of those affected. The businesses washed off the face of the earth…the families who left with nothing more than the clothes on their back…the children who will likely never be able to return to their former homes.
"The world has turned upside down for everything and everybody in Harvey's path," said Sheri Greenhaus, managing partner of CRMXchange, "But, with all the negative noise on cable news, I am encouraged by the images of Americans doing everything they can to help each other survive through the worst of circumstances." Her comments came as part of the announcement of a new crowdfunding page which can be found on http://www.savethechildren.org/harvey-fundraiser/crmxchange to benefit Save the Children.
"For over 20 years, CRMXchange has provided information to help enhance knowledge and share best practices for the customer service industry," noted Greenhaus. "In this unprecedented time of need, what greater service can we provide than to support the best efforts of caring people? Throughout the month of September, we will be matching all donations of up to $5, 000. In addition, we will provide all customer experience suppliers who donate $250 with a complimentary one-year listing on the CRMXchange Vendor Directory."
"Donations are welcome at all levels," said Greenhaus. "We invite our audience to step up and pay it forward. CRMXchange has always been a free educational resource for CX professionals. We hope the information you've acquired from us over the years is worth at least $5…$10…$100? If you agree, please join us in contributing to the victims of Harvey. Thanks for your support and compassion."
For more details, go to http://www.crmxchange.com/offer/hurricane_harvey/crmxchangesept2017.asp
Please also join us in sending your ongoing thoughts and prayers to the victims of Hurricane Harvey.