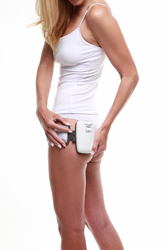 "When I reviewed the science and the results, I realized that Silk'n Lipo is as effective as some of my large, commercial body contouring Low Level Light systems that I use on patients in-office."
Tel Aviv, Israel (PRWEB) September 05, 2017
Shaping a toned, trim body is now possible and easy in the comfort of home. Fitting professional-grade technology into a convenient, handheld device, Silk'n Lipo eliminates the need to visit pricey clinics (about $7,000 for treatments) to get professional results, at a fraction of the cost (Silk'n Lipo is selling for $279 only on Indiegogo). Silk'n Lipo is an exciting innovation now live on Indiegogo and available for discounted early bird prices during this crowdfunding launch.
Silk'n Lipo helps users lose fat by targeting areas that are so commonplace that they have their own lingo - mummy tummy, muffin top, love handles and junk in the trunk. Silk'n Lipo fits anyone's schedule, requiring just 15 minutes a day. The solution comes in a convenient, hand-held device that can help sculpt and firm problem spots. See results on targeted areas in just eight weeks using Silk'n Lipo, with no discouraging diets or time-consuming exercise.
"It was only natural that once we saw the growing number of commercial professional solutions for spot-reduction being used in clinics, we would take it as an indication of the growing demand for this beauty procedure, and would look for ways to make it more affordable for everyone and available for home use," said company founder and CEO Moshe Mizrahy.
How it works: Using Low Level Light Therapy (LLLT), fat cell walls are temporarily perforated using specific light frequencies, allowing the lipids to be released and flushed out naturally through the lymphatic system in the same way as normal dietary fat.
LLLT is combined with Electrical Muscle Stimulation (EMS) technology that delivers a gentle electrical impulse to the muscle-fibers, forcing underlying muscles to exercise. This accelerates the process of flushing out excess fat in the targeted areas without the need for a post-treatment exercise session as required in clinics. The result is a slimmer, more toned body.
"Low-level light therapy is a well-established clinical method for fat-reduction with years of proven results," said Dr. Stephen Mulholland, Renowned Cosmetic Surgeon. "In my own clinic, it has been one the most popular non-invasive treatments with my patients because of its efficacy in eliminating fat and contouring the body without any of the discomfort or side-effects that accompany surgical options."
When I first heard they had been able to compact Low Level Light Therapy into a simple, little home device, I was understandably skeptical," Mulholland continued. "But when I reviewed the science and the results, I came to realize that Silk'n Lipo is as effective as some of my large, commercial body-contouring Low Level Light systems that I use on patients in-office."
It's safe. The technology behind Silk'n Lipo has been exhaustively tested for everyday use. There is no increase in warmth nor any other form of discomfort accompanying treatments. All the user feels is their muscles gently working beneath the device in response to the EMS.
Lipo implies fat-reduction; Silk'n implies professional quality made for convenient, non-invasive, results-driven home use. Silk'n, the pioneers of hair removal technology shrunk down for home use, are offering Silk'n Lipo at up to 45 percent off the retail price on Indiegogo.com. Pre-ordering during the campaign comes with guaranteed shipping by Christmas. Say good-bye to stubborn fat.
About Home Skinovations - Home Skinovations Ltd, the award-winning, internationally acclaimed global leader in professional aesthetic devices for home use, is a private company with a mission to develop, manufacture and sell the safest and most effective consumer devices. A team of skilled scientists, engineers and business executives have a successful and lengthy record of introducing innovative products to the global aesthetic devices market. The Silk'n family of at-home products has over 4 million users worldwide and has been featured in TV shows and magazines such as O, the Oprah Magazine, The Rachael Ray Show, The Doctors, Allure, Vogue and more. Silk'n has received international recognition for Best Hair Removal, Product of the Year – Hair Removal, and Product of the Year - Anti-Aging.