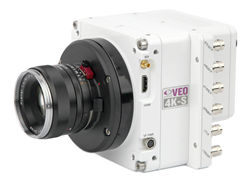 VEO4K cameras employ a custom 9.4-megapixel, 12-bit CMOS sensor with 6.75 micron pixels, producing images of the highest quality and pixel resolution.
Wayne, N.J. (PRWEB) September 05, 2017
Vision Research, a leading manufacturer of digital high-speed imaging systems, today introduces the Phantom® VEO4K camera family, combining the imaging power of the Flex4K-GS with the convenient form factor of the VEO. Designed for demanding scientific research, defense and media applications, it will capture up to 1,000 frames per second (fps) at 4K and higher at reduced resolutions.
VEO4K cameras employ a custom 9.4-megapixel, 12-bit CMOS sensor with 6.75 micron pixels, producing images of the highest quality and pixel resolution – great for high-magnification and applications involving dynamic movement across large spaces. The family consists of three models, including the Phantom VEO4K-PL camera for media production, as well as two body styles, allowing users to select the camera that best meets their needs.
Machined from solid aluminum with isolated electronics, Phantom VEO cameras are known for their durability and ability to perform in harsh environments. VEO4K cameras are available with either 36 GB or 72 GB of RAM and include SDI and HDMI video outputs. S-models include a secondary battery input and CFast 2.0 compatibility which enables remote, untethered recording.
Key Specifications of the Phantom VEO4K:

35mm 9.4-megapixel sensor
Global shutter, switchable to rolling shutter for increased dynamic range
4K-990 models capture up to 938 fps at 4096 x 2304; 1000 fps at 4096 x 2160; 1975 fps at 2048 x 1080
10Gb Ethernet option for optimized workflow
Size: 5 x 5.5 x 6" (12.7 x 14 x 15.2 cm); 6.0 lbs (2.8 kg)
HDMI and 3G-SDI video outputs
VEO4K-S and PL models include CFast, On-camera controls and secondary battery input for portability
To learn more about Phantom high-speed cameras, click here. To find out the latest on Vision Research and its high-speed cameras, follow it on Twitter ,LinkedIn, Facebook or keep up to date with the innovations on our blog.
About Vision Research
Vision Research is a leading manufacturer of high-speed digital imaging systems that are indispensable across a wide variety of applications, including defense, automotive, engineering, science, medical research, industrial manufacturing, packaging, sports broadcast, TV production and digital cinematography.
The Wayne, N.J.-based company designs and manufactures the most comprehensive range of digital high-speed cameras available today, all of which deliver unsurpassed light-sensitivity, image resolution, acquisition speed and image quality.
Over the course of its 60+ year history, Vision Research has earned numerous awards in recognition of its innovations in high-speed digital camera technology and sensor design, including a technical Emmy and an Academy Award®.
Vision Research digital high-speed cameras add a new dimension to the sense of sight, allowing the user to see details of an event when it's too fast to see, and too important not to™. For additional information regarding Vision Research, please visit http://www.phantomhighspeed.com.
Vision Research is a business unit of the Materials Analysis Division of AMETEK Inc., a leading global manufacturer of electronic instruments and electromechanical devices.