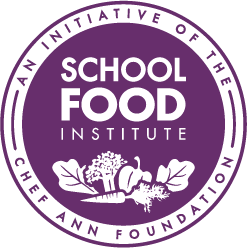 We decided to meet school nutrition officials and school food activists where they work and live through the power of video and online education.
BOULDER, Colo. (PRWEB) September 06, 2017
Chef Ann Foundation (CAF) announces today the launch of its School Food Institute (SFI), an online video course educational series that teaches school foodservice professionals and childhood nutrition advocates across the U.S how to transition to a scratch-cooking program. The program was created to increase accessibility to healthier school food by providing the in-depth training, operational skills and strategic vision necessary to make sustainable improvements in school food programs.
School Food Institute is leveraging technology and video to swiftly scale up a return to scratch cooking. While there are other online courses for school nutrition professionals, none solely focus on the importance of fresh ingredients and real cooking, or offer "Office Hours" with Chef Ann Cooper, founder of Chef Ann Foundation and national school food activist.
"We had to do this," said Mara Fleishman, chief executive officer for Chef Ann Foundation. "Since we haven't figured out how to clone Chef Ann Cooper, we chose a functional and interactive way to still reach all districts with a blueprint for positive change and access to Ann for support."
School Food Institute's coursework kicks off on Monday, Oct. 16 with eight professional development courses focused on key areas of school food operations, such as procurement, marketing and lunchroom education, human resources, finance, and recipe and menu development. Participants may choose to enroll in the entire series or individual courses best suited for their needs. All courses are in alignment with USDA Professional Standards' learning objectives allowing course completion to satisfy annual training requirements for foodservice professionals.
"The School Food Institute training will be incredibly valuable to me and my leadership team as we transition our school meals away from processed foods," said Rodney Taylor, Director of Food and Nutrition Services for Fairfax County Public Schools in Springfield, Virginia.
SFI's online video courses are taught by Chef Ann Cooper, a leader in the field of school food reform and founder of CAF. Chef Ann has served for the past nine years as the Director of Food Services for Boulder Valley School District, overseeing all meals for 50+ public schools, and is the author of Bitter Harvest and Lunch Lessons: Changing The Way We Feed Our Children.
Registered participants in the SFI courses can directly engage with Chef Ann and her teaching assistant through SFI virtual office hours. This forum provides an interactive platform for enrollees to ask questions on the coursework and receive ongoing support to encourage positive food change within schools.
SFI participating students may choose to become SFI Certified. Certification is available at three levels: Gold, completion of all eight courses; Silver, completion of the School Food 101 and four additional courses of choice; and Bronze, completion of School Food 101 and two additional courses of choice. This is the first national certificate on school food improvement through scratch-cook operations.
"We decided to meet school nutrition officials and school food activists where they work and live through the power of video and online education," said Cooper. "I try to offer support to any school food service operator that reaches out to me but it's hard to keep up, and I needed a more efficient process. I want to see this positive change happen in every school in America in my lifetime."
The School Food Institute was made possible, in part, by a grant from the Colorado Health Foundation. This generous support will allow all Colorado school foodservice professionals to enroll in SFI coursework at no cost.
For more detailed information about the program and coursework visit http://www.schoolfoodinstitute.org.
About The Chef Ann Foundation:
The Chef Ann Foundation was founded in 2009 by Ann Cooper, an internationally recognized author, chef, educator, public speaker, and advocate of healthy food for all children. To-date the Foundation has reached over 2.8 million children across the country and seeks to provide tools that help schools serve children healthy and delicious scratch-cooked meals made with fresh, whole food. As a 501(c) 3 nonprofit organization, the Chef Ann Foundation is grateful to their generous supporters and friends who help them carry out this mission.
About The Colorado Health Foundation:
The Colorado Health Foundation is bringing health in reach for all Coloradans by engaging closely with communities across the state through investing, policy and advocacy, learning and capacity building. For more information, please visit http://www.coloradohealth.org.