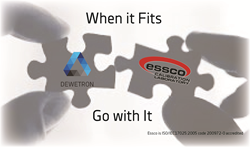 "...it was only logical that we turned to Essco..." Steve DiPalma, DEWETRON Operations Officer
East Greenwich, Rhode Island (PRWEB) September 08, 2017
After depending on Essco for many years as an external calibration vendor and being impressed with the level of customer service and attention to quality details, DEWETRON offered Essco the opportunity to receive Exclusive Rights to DEWETRON's proprietary accredited calibration procedures in the United States. Essco Accepted the offer and as of August 2017 is the exclusive provider of accredited calibration for DEWETRON data acquisition instruments.
As an international leader in the development and manufacture of data acquisition and power analysis instruments, DEWETRON maintains exacting quality standards beginning with product development and continuing through production and shipping to post purchase support and maintenance. We look for the same standards of excellence is our service partners.
Essco is accredited to ISO/IEC 17025:2005 NVLAP code 200972-0.
The management system requirements in ISO/IEC 17025:2005 (sec. 4) are written pertinent to laboratory operations and meet the principles of ISO 9001:2008 Quality Management System Requirements. This allows Essco to Provide state-of-the-art test equipment calibration services that precisely measure flow, force, torque, weight, pressure, temperature and calibrate almost any mechanical electronic or dimensional instrument.
Says, DEWETRON's Operations Officer Steve DiPalma, "Since we have so much history with Essco and share the same values in terms of quality and customer service it was only logical that we turned to them to be our exclusive accredited calibration partner when we launched the North American Customer Care Center."
Essco's Vice President, Troy Thomas believes, "partnering with a company that has been delivering customized measurement solutions for more than 25 years is a perfect fit with Essco, who has been delivering consistent quality and service for the past 56 years".
In operation since 1961, Essco Calibration Laboratory is New England's largest and most diverse calibration and repair lab. Each year, Essco completes 105,000+ electronic, mechanical and dimensional calibrations for clients across a variety of industries. With four environmentally controlled labs staffed by more than 40 technicians, Essco can offer a fast turnaround on most jobs. Onsite service is also available.
Visit DEWETRON at https://www.dewetron.us/service-support/calibration-usa/ for details on our Calibration packages to ensure continued integrity of your DEWETRON System and
Visit ESSCO at http://www.esscolab.com for more details about Essco Calibration Labs services, history and to take a virtual tour of the lab.
Stay connected with both DEWETRON and Essco on LinkedIn and YouTube for the latest news and videos.