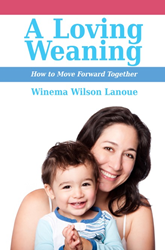 A Loving Weaning helps families gently navigate the end of the breastfeeding
Amarillo, TX (PRWEB) September 08, 2017
Winema Wilson Lanoue makes it clear that weaning from breastfeeding does not have to be confusing or difficult, but rather a journey of partnership and love. Lanoue guides the reader through the issues surrounding weaning and addresses the most frequently asked breastfeeding questions. A Loving Weaning: How to Move Forward Together, published by Praeclarus Press, shows parents how they can create a winning weaning plan that works for their own unique family.
Lanoue navigates possible weaning circumstances and obstacles, such as the child's age or the parents' work situations, to bring the best guidance for those at various stages of the weaning journey. Using personal narratives from other mothers alongside professional advice, Lanoue covers the spectrum of weaning issues and questions. "Promoting gentleness and respect, in all aspects of the parent-child relationship, is a passion of mine because I believe that this is the best way to grow healthy, happy adults and a healthy, happy society," says Lanoue. "Breastfeeding is one significant way in which this can be accomplished, but I believe that parents need more positive support for the compassionate end of the breastfeeding journey. There is so much out there for them as they begin this journey and so little for them as they contemplate weaning."
Since 2002, Lanoue promotes loving parenting through her writing and her work providing extensive, trained breastfeeding support to families. Lanoue and her family live in Virginia, USA. Follow Lanoue on Twitter @WinemaLanoue and her website.
Praeclarus Press is a small press founded by health psychologist, Dr. Kathleen Kendall-Tackett, focusing on women's health. The mission of Praeclarus Press is to publish books that change people's lives. Praeclarus Press is based in Amarillo, Texas.
A Loving Weaning: How to Move Forward Together is available at Praeclarus Press and on Amazon.