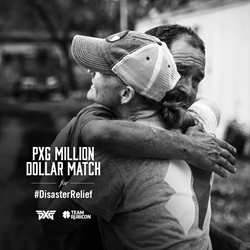 Scottsdale, Arizona (PRWEB) September 07, 2017
In the aftermath of Hurricane Harvey, PXG announced that it will match donations, dollar-for-dollar, up to $1 million in support of Team Rubicon's disaster relief efforts. PXG's matching challenge will help raise critically needed funds for the veteran-led organization, which coordinates and deploys highly trained and capable military veterans as volunteers.
Providing relief to those affected by natural disasters is Team Rubicon's mission. By pairing the skills and experiences of military veterans with first responders, medical professionals, and technology solutions, the organization mobilizes highly trained teams to provide the greatest impact possible.
"Team Rubicon has created an exceptional program that enables veterans to continue to serve and protect during times of emergency," said PXG founder and Marine Corps veteran Bob Parsons. "Veterans are trained to act with precision, physically and mentally, amid chaos and disaster. They are often the calm during the storm. And together, they can move mountains."
"The matching challenge from PXG allows the veterans and first responders of Team Rubicon to better assist communities on their worst day," Team Rubicon co-founder and CEO Jake Wood shared. "From immediate floodwater rescues to long-term recovery in Texas, Team Rubicon is proud to help communities in need, and we're honored to have the outstanding support of PXG."
Together with its touring professionals and brand ambassadors, PXG will leverage its global reach to drive awareness of and raise critical funds for Team Rubicon's emergency relief efforts in Houston. Anyone wishing to double the impact of their support can visit http://www.teamrubiconusa.org or text HARVEY to 87872. Links to donate can also be found on http://www.pxg.com.
"This is a perfect opportunity for everyone to step-up and support people in dire need," Parsons added.
If you are a veteran and you would like to volunteer, please visit http://www.teamrubiconusa.org/join-the-team/down-n-dirty/volunteer/.
ABOUT PARSONS XTREME GOLF – PXG, A YAM WORLDWIDE COMPANY
Parsons Xtreme Golf (PXG) is based in Scottsdale, Arizona. The company was founded by American entrepreneur, Marine Corps veteran and philanthropist Bob Parsons in 2014. Leveraging breakthrough technology and sophisticated manufacturing processes that integrate high-performance alloys, PXG produces the finest golf clubs in the world. The company has more than 120 global patents issued for its proprietary designs.
PXG's professional staff includes PGA TOUR Champions James Hahn, Billy Horschel, Charles Howell III, Zach Johnson, Chris Kirk, Ryan Moore, Pat Perez, Charl Schwartzel, and LPGA players Austin Ernst, Christina Kim, Lydia Ko, Brittany Lang, Alison Lee, Ryann O'Toole, Sadena Parks, Gerina Piller, and Beatriz Recari.
ABOUT TEAM RUBICON
Team Rubicon unites the skills and experiences of military veterans with first responders to rapidly deploy emergency response teams. Team Rubicon is a nonprofit organization offering veterans a chance to continue their service by helping and empowering those afflicted by disasters, and also themselves. Programs and services are made possible by the support of individual donors, corporate partners, and the dedication of volunteers across the country.