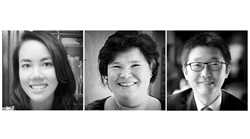 "I feel confident that as a part of this illustrious group I will have an even greater platform to continue spreading the gospel of Italian wine in my capacity as a VIA Italian Wine Ambassador." says, Heller.
(PRWEB) September 07, 2017
Despite Italian Wine's popularity worldwide, often considered number one in both production and export, in China it has yet to gain much traction. Vinitaly International Academy will be in Beijing and Shanghai for the first time to hold its' Certification Course.
"One of the reasons why there are not many Italian Wine Experts in China is due to its lack of exposure to the Chinese consumers but perhaps mostly it's due to its complexity of the plethora of Italian Wine Grapes and its territories. There are 590+ autochthonous grapes identified from Italy and that's just as of today," states Stevie Kim, Founder of VIA (Vinitaly International Academy) and Creator of the new ebook Italian Wine Unplugged Grape by Grape specialized in Italy's native grapes yielding internationally-praised Italian wines.
Three well-known experts from China who have endeavored to challenge this by becoming the Italian Wine Ambassadors for VIA are: Lu Yang MS, Sarah Heller MW and Fongyee Walker MW, and it is not by chance they are the highest acclaimed wine professionals in China. Lu Yang, corporate wine director for Shangri-la Hotel group has just been awarded the Master of Sommelier qualification (MS) by the Court of Master of Sommeliers in August, becoming the first Chinese sommelier to hold the highest accolade of profession. Likewise Sarah Heller, journalist and consultant has just been awarded the Master of Wine qualification (MW) earlier this week by the Institute of Masters of Wine, so has been Fongyee Walker last year. "I'm beyond proud to be joining the ranks of this organization that truly represents excellence in the wine industry," confirms Heller, "I feel confident that as a part of this illustrious group I will have an even greater platform to continue spreading the gospel of Italian wine in my capacity as a VIA Italian Wine Ambassador.
The one thing Lu, Sarah, and Fongyee have in common is the fact that they participated in the Vinitaly International Academy (VIA) Certification Course and earned the title of Italian Wine Ambassadors. VIA, the gold standard of Italian wine education worldwide has attracted more than 200 wine professionals in the past 4 editions in Verona, Italy, and during the latest edition in New York, USA. After the participation of the 3 personalities, VIA has been attracting more and more candidates from China, counting 3 Italian Wine Experts and 21 Italian Wine Ambassadors from the Greater China area today. So could there be a chance for Italian wine in China after all, following the other parts of the world?
VIA celebrates the new titles of magnitude (MS and MW) of its Italian Wine Ambassadors by launching its very first VIA Certification Course in Beijing and Shanghai this weekend. These stops at Beijing and Shanghai open up more opportunities for wine professionals in the Asian countries to become Italian Wine Ambassadors and Experts. The 66 candidates that have signed up for the Course include Zhang Xiao Han, marketing director of Zachy's China, Paul Wong, Deputy director and auction specialist of Sotheby's HK, and Tommy Lan, wine expert in the China market from Singapore. Many other sommeliers, journalists, and wine makers will fly in from Macao, HK, Taiwan and Russia.
To become a VIA certified Italian Wine Ambassador, candidates need to pass a challenging exam after the intense 5 day program of theory and tastings with Dr. Ian D'Agata, VIA Scientific Director and author of Native Wine Grapes of Italy. This demanding yet rewarding course is what has attracted incredible wine professionals from all over the world to take part in the course, including one MS and three MWs as of now.
The full biographical notes of the 2017 VIA China candidates can be found at http://www.vinitalyinternational.com/vinitaly-international-academy/candidates. The profiles of the 7 Italian Wine Experts and 92 Italian Wine Ambassadors that have been certified during the first and second edition of the Course can be viewed at http://www.vinitalyinternational.com/vinitaly-international-academy/expert-ambassador. The table and map below show the diverse geographical origin of the candidates who will be flying into Beijing and Shanghai for the course.
About:
Veronafiere is the leading organizer of trade shows in Italy including Vinitaly (http://www.vinitaly.com), the largest wine and spirits fair in the world. During its 51th edition Vinitaly counted more than 4,270 exhibitors on a 100,000+ square meter area and 128,000 visitors from 142 different countries with more than 30,000 top international buyers (up by 8%). The next edition of the fair will take place on 15 - 18 April 2018. The premier event to Vinitaly, OperaWine (http://www.operawine.it) "Finest Italian Wines: 100 Great Producers," will unite international wine professionals on April 14th in the heart of Verona, offering them the unique opportunity to discover and taste the wines of the 100 Best Italian Producers, as selected by Wine Spectator. Since 1998 Vinitaly International travels to several countries such as Russia, China, USA and Hong Kong thanks to its strategic arm abroad, Vinitaly International. In February 2014 Vinitaly International launched an educational project, the Vinitaly International Academy (VIA) with the aim of divulging and broadcasting the excellence and diversity of Italian wine around the globe. VIA this year launched the fourth edition of its Certification Course and today counts 92 Italian Wine Ambassadors and 7 Italian Wine Experts.