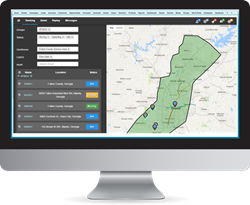 We will add tremendous value to the State and provide them a solution that can grow and scale with the State's needs and emerging IoT and real-time trends." Tim Quinn, CEO - ThingTech
ATLANTA, GA (PRWEB) September 08, 2017
ThingTech (http://www.thingtech.com), announced that it has been selected by the State of Delaware, after a formal evaluation process, to implement its ThingTech Real Time IoT platform across all DelDot and Delaware fleet services vehicles. ThingTech will replace the legacy telematics product and expand the capabilities to include real-time asset utilization, geofence monitoring, predictive asset analytics, and engine diagnostics. ThingTech will provide a single application that uses real-time data in combination with multiple ThingX™ Connectors to integrate to the state asset maintenance system, state fueling systems, remote emissions monitoring, and NHTSB recall notifications.
"We are very excited to partner with the State of Delaware on this project, which validates the power and flexibility of our platform, approach, and team. We will add tremendous value to the State and provide them a solution that can grow and scale with the State's needs and emerging IoT and real-time trends." says Tim Quinn, CEO of ThingTech
ThingTech's ThingX™ API Platform automates the integration of GPS, sensors, RFID, power take offs, telematics, geospatial and location based systems to generate actionable data and optimize operational decision making. By leveraging our ThingX™ IoT platform for connected asset intelligence, our tightly integrated products, devices and communication protocols can be mixed and matched to meet the unique needs of those organizations that require real-time vehicle and workforce information, real-time machine-to- machine or sensor data, enterprise asset management, and field service optimization.
About ThingTech
ThingTech is a real-time IoT platform that generates actionable asset intelligence for optimized decision making. Specifically designed for asset-intensive organizations, ThingTech provides the where, when and how those assets are behaving on your desktop or in the palm of your hands. By leveraging data such as real-time location, utilization, and diagnostics from assets and their mobile workforce, our customers can use predictive analytics to identify mission critical issues before they arise, react immediately, remediate problems, and ultimately provide better customer service. The result is a documented tangible ROI via cost reductions and increased revenues, resulting in a profound effect on the top and bottom line.