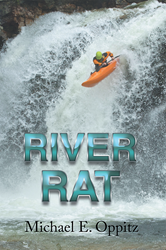 ANCHORAGE, Ala. (PRWEB) September 11, 2017
An Anchorage-based author has released a fiction combining his love for the Rio Grande and adventure. "River Rat," by Michael Oppitz, is a river adventure revolving around one disconnected family that ends in unthinkable disaster on the Rio Grande. Oppitz has intertwined his own experiences on the river in this action-packed fiction.
In 'Rat,' readers are introduced to Robbie, a recent high school graduate who struggles to keep his parent's attention. While he and his parents struggle to see eye to eye, Robbie's father decides to schedule a family vacation – a 10-day trip on the Rio Grande River, attempting to bond with his son. However, the vacation quickly turns deadly as both of Robbie's parents perish in a river accident.
Writing this book came as inspiration through Oppitz's faith while writing his first book, "The Green Monster." "with so many ideas going through my mind about writing a second book, I started writing 'River Rat' from earlier ideas." the author said. "This book was based on my personal experience and I hope readers will experience the same joy, excitement and sense of adventure that I did while writing it."
Prior to living in Anchorage, Oppitz lived in Texas, where was an avid white-water canoer on the Rio Grande. What's more, he taught a merit bade in canoeing for The Boy Scouts of America in Houston.
A gripping, edge of your seat adventure, "River Rat" will have audiences yearning for more as the adventure unfolds.
"River Rat"
By Michael Oppitz
ISBN: 978-1-5434-3501-6 (softcover); 978-1-5434-3502-3 (hardcover); 978-1-5434-3500-9 (electronic)
Available at the Xlibris Online Bookstore, Amazon and Barnes & Noble
About the author
Michael Oppitz is a retired author currently living in Anchorage, Ala. with his wife, Laura. In his free time, Oppitz enjoys maintaining a very active lifestyle, frequently traveling the country and returning to the river when he can.
###
Review Copies & Interview Requests:
LAVIDGE – Phoenix
Chris Peña
480-998-2600 x 519
cpena(at)lavidge(dot)com
General Inquiries:
LAVIDGE – Phoenix
Bryan Beach
480-998-2600 x 510
bbeach(at)lavidge(dot)com