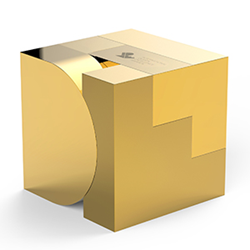 "IDEA is the award by designers, for designers. Fuseproject worked with IDSA specifically to rebrand IDEA and redesign the trophy to reflect the evolving industry it celebrates."
San Francisco, CA (PRWEB) September 11, 2017
One of the world's most prestigious and rigorous design competitions is getting a new look. For 37 years, the International Design Excellence Awards (IDEA)® has been conducted by the Industrial Designers Society of America (IDSA). Now, with the help of fuseproject—the design studio founded by longtime IDSA member Yves Béhar—the awards program is undergoing changes including the redesign of its trophy.
"For anyone who is a maker, who is building something, it's the ultimate achievement to get an IDEA," says Béhar. "IDEA is the award by designers, for designers. Fuseproject worked with IDSA specifically to rebrand IDEA and redesign the trophy to reflect the evolving industry it celebrates. Our goal was to create a new identity and trophy that feels as diverse and as expressive as the design industry itself."
"IDEA recognizes excellent creative designs—not just industrial design, but also architecture, interior design, user experience, graphic design and design strategy," says fuseproject VP of Design and IDSA Board Member Qin Li. "We want the new branding and trophy design to reflect its inclusivity across disciplines and around the globe, so we may continue to grow and inspire future generations of designers."
Weight and structure were added to the individual letters. "The magic is in how these come together, just like a design solution is a beautiful puzzle—where each piece can stand on its own but works better together. The color scheme is influenced by the built world around us—bright and playful," says Béhar.
"The whole idea behind a lot of the sketches that we did was bringing things together, bringing disciplines together. How can we make this feel a bit more inclusive?" asks fuseproject Director of Brand Kristine Arth, who served as an IDEA 2017 juror in the new branding category.
"When the new award was first presented to our IDSA Board of Directors, everyone in the room seemed fascinated with its multi-faceted design and functionality. They were excited to see how it worked," says IDSA Executive Director Daniel Martinage, CAE.
The new Best in Show trophy will be multi-colored. "With this new identity and trophy, we hope to show the beautiful, cohesive, evolving, flexible, playful, iterative, eccentric and wonderful world of design—and indicate the bright future of our ever-changing industry," says Béhar.
IDEA 2018 will open for entry on Jan. 2, 2018. Jury Chair Michael Kahwaji, IDSA, senior design manager at Whirlpool, will lead a world-class panel of experts. See http://www.idsa.org/IDEA for the latest information.
About fuseproject:
Founded in 1999 by Yves Béhar, IDSA, fuseproject is an award-winning design studio based in San Francisco. Utilizing an integrated approach to design, the studio offers a full scope of design services including industrial design, brand, packaging, UI/UX and spatial design. Fuseproject believes that design should be a force for positive social and environmental change. Taking a long-term approach to developing and enhancing brands, fuseproject works internationally across a wide array of industries including tech and biotechnology, furniture, fashion, spatial design, and consumer goods. The studio has also pioneered venture design, working with entrepreneurs in providing holistic design services to support in scaling their businesses. The studio's work is internationally recognized and lives in the permanent collections of MoMA, SFMoMA, Centre Pompidou and Cooper Hewitt, Smithsonian Design Museum.
About IDSA:
Founded in 1965, the nonprofit IDSA is one of the oldest and largest membership associations for industrial design professionals—with thousands of members in the United States and internationally. The Society conducts the International Design Excellence Awards (IDEA)®; leads National Industrial Design Day efforts annually on March 5; and hosts events including an annual International Design Conference, five District Design Conferences and niche conferences such as Medical Design and Women+Design. Global outreach includes designUpdate and designBytes e-newsletters; and INNOVATION magazine and its Yearbook of Design Excellence—featuring IDEA, IDSA Award and Student Merit Award winners.