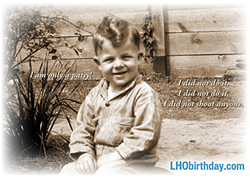 I am only a patsy. I did not do it. I did not do it. I did not shoot anyone.
Walterville, OR (PRWEB) September 20, 2017
Please join us in celebrating LEE HARVEY OSWALD DAY – his Birthday! – by visiting the places Lee lived, worked and played in New Orleans, Louisiana.
Lee was born October 18, 1939 – he would have been 78 this year.
Please visit LHObirthday.com for all the details, and note that the schedule will be updated as things are added or changed.
10:00am – 10:30am
Press Conference/Rally at Lafayette Square declaring Lee Oswald Day, and calling on Federal authorities to release all files relating to the JFK assassination by Thursday, October 26th, as mandated by the JFK Records Act.
LOCATION: Lafayette Square, Bound by St. Charles Ave., Camp St., North Maestri St., and South Maestri St.
10:30am – 11:00am
"Ground Zero" Walking Tour
The haunts of Lee Harvey Oswald's march to infamy . . .
LOCATION: Walking Tour starting at Lafayette Square
LUNCH
ON YOUR OWN: Ed, Judyth and Kris will be dining at historic Antoines.
LOCATION: Antoines Restaurant, 713 St. Louis Street, New Orleans, LA 70130
2:00pm – 5:00pm
AUTHOR "BOOK SIGNING" EVENT – Edward T. Haslam and Judyth Vary Baker
Meet the authors of Dr. Mary's Monkey and Me & Lee who will answer your questions about Lee's role in the JFK assassination. Be the first to purchase the new book by Judyth Vary Baker, Kennedy & Oswald: The Big Picture.
LOCATION: Barnes & Noble, 1601B West Bank Expressway, Harvey, LA 70058
DINNER: ON YOUR OWN
8:00pm – 10:00pm
Lee Harvey Oswald Birthday Party at Le Bon Temps Roule
Join Judyth, Ed and Kris to celebrate the life of Lee on what would have been his 78th birthday.
LOCATION: Le Bon Temps Roule, 4801 Magazine Street, New Orleans, LA