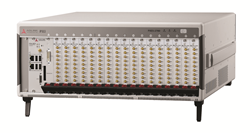 San Jose, CA (PRWEB) September 08, 2017
ADLINK Technology, a global provider of leading edge computing solutions that drive data-to-decision applications across industries, will showcase the latest PXI and PXIe chassis and controllers for the test and measurement market at Autotestcon 2017. ADLINK experts will be on hand at Booth 300 in Schaumburg, Illinois September 11-14.
As a leading provider of PXI products in the Test & Measurement market, ADLINK has devoted extensive field experience to the PXI platform. After more than ten years developing more than 100 PXI products for automation and testing, and as a sponsor member of the PXI System Alliance, ADLINK continues to expand PXI and PXI Express offerings with innovative products, meeting the unique needs of high-speed and high-bandwidth applications, such as spectral monitoring and signal intelligence.
At Autotestcon, ADLINK will showcase various configurations of our PXI platform. From 3 to 18-slot chassis and a variety of controller options, each platform is compliant with PXI and PXI Express specifications. ADLINK's platform solutions are compatible with all third party PXI and PXIe modules, ensuring maximum flexibility and availability for all platform configurations.
With a rich history in measurement and automation, as well as in hardware design and software integration, ADLINK provides a broad portfolio of high performance products with higher speed/bandwidth bus interfaces. ADLINK also delivers robust software support for their comprehensive modular instrument products. Drivers for mainstream Windows and Linux Operating Systems are available, as is diverse various SDK support for third-party applications including Visual Studio, LabVIEW™ and MATLAB®.
To learn more about a real-world PXI based solution based on low-cost microphone arrays, please download our whitepaper here.
ABOUT ADLINK
ADLINK Technology is leading edge computing with solutions that drive data-to-decision applications across industries. ADLINK provides robust and reliable hardware platforms, data connectivity, and complete Industrial Internet of Things (IIoT) solutions to serve a wide variety of industries, including test and measurement.
ADLINK is a Premier Member of the Intel® Internet of Things Solutions Alliance and is active in several standards organizations and interoperability initiatives, including PCI Industrial Computer Manufacturers Group (PICMG), PXI Systems Alliance (PXISA), Standardization Group for Embedded Technologies (SGeT), European Telecommunications Standards Institute (ETSI), and Open Compute Project (OCP).
ADLINK offers R&D and integration in the US, Germany, Taiwan and China; volume manufacturing in Taiwan and China; an extensive network of worldwide sales and support offices; and a continually expanding partner ecosystem. ADLINK is ISO-9001, ISO-14001, ISO-13485 and TL9000 certified and is publicly traded on the TAIEX Taiwan Stock Exchange (stock code: 6166). Please visit http://www.adlinktech.com for more information.
All trademarks are the property of their respective owners in the U.S. and other countries.