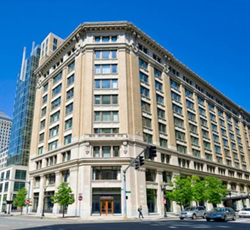 "There are not enough qualified appraisers in many areas of the country."
Boston, Massachusetts (PRWEB) September 11, 2017
New York Fine Art Appraisers (NYFAA) announces the opening of their New England regional office, located in Boston, and appointment of a regional director that will provide New England clients with the experience, service and respect that has made NYFAA a leader in the field. The new office continues the expansion of NYFAA's fine and decorative art consultation and appraisal services throughout the United States.
The New England office is located in Boston's Back Bay district, home to Newbury Street galleries, Skinner Auctioneers, and close to the renowned Museum of Fine Arts. NYFAA has appointed Regional Director Melissa McCaffrey, who will provide onsite appraisal services to Boston and New England clientele. She will be assisted by a team of specialist appraisers and experts in a wide range of specialties, including Jewelry, Americana, Modern and Contemporary Art and Antique Furniture.
With a MA in the History of Decorative Arts, Design & Culture from Bard Graduate Center in New York and over 10 years of relevant experience at internationally recognized auction houses, McCaffrey is a valuable addition to the NYFAA team. She will have all the resources of the partner office and company headquarters in Manhattan.
Interest and demand for professional art appraisals that are qualified for submission to the IRS and other government agencies, insurance companies, banks and courts of law, have grown steadily over the past 10 years. Additionally, clients wishing to sell artwork and liquidate estates are increasingly turning towards professionals appraisers for independent advisory services rather than contacting dealers and auction houses directly.
"After our expansion to Los Angeles and Palm Beach several years ago, we quickly realized that there are not enough qualified appraisers in many areas of the country," says Danielle T. Rahm, Managing Director of NYFAA. "Boston," she explains, is "a major cultural center of the arts, both historically, as the most important region in American furniture, silver and decorative arts, and contemporarily as well. Often considered a more conservative city, with buyers mostly interested in Impressionist Art and Americana, there is actually a wide variety of collectors in Boston, including a burgeoning Contemporary Art scene rich with cultural significance, availability and maturity."
McCaffrey will be serving Boston, Massachusetts, and the New England region in all areas of appraisal and consultation and is expected to continue providing exceptional service to the private and corporate sectors. Rahm says, "The addition of a Boston office provides the opportunity to better serve our clients. We are extremely pleased with our success in recent years and have been working to create a strategy to expand that meets the needs of the client."
ABOUT NYFAA
Established in 1980 by Founder and President Jason L. Rahm, AAA, New York Fine Art Appraisers is a respected leader in the field of independent appraisals of the fine and decorative arts. NYFAA provides a full range of professional valuation, consulting and collection management services tailored to meet the needs of public, private and corporate collectors and non-profit institutions in the United States and abroad. Recent projects include appraisals of the art at Rockefeller Center, and clients including the United States Department of Homeland Security, the Secret Service, Chubb Insurance and U.S. Bank.