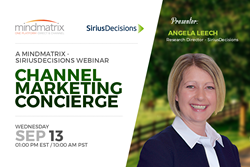 Pittsburgh, PA (PRWEB) September 11, 2017
Pittsburgh based channel enablement company, Mindmatrix is co-hosting a webinar on Channel Marketing Concierge Services with SiriusDecisions on Wednesday. September 13, 1PM EST/10AM PST. This webinar will serve as a roadmap for vendors helping them drive better adoption, engagement and marketing performance with channel partners. Angela Leech, Research Director at SiriusDecisions will be presenting.
The Mindmatrix-SiriusDecisions webinar on channel marketing concierge will focus on
-The most effective means for delivering channel marketing programs that achieve the highest adoption rates and ROI
-The 5 elements of an effective channel marketing concierge model
-Preparing for successful channel marketing enablement through marketing concierge services
-Methods that help drive better adoption, engagement and channel marketing performance with channel marketing concierge services
Angela Leech has 22+ years of experience in channel marketing and is well versed in Channel marketing operations and processes and in deploying channel marketing automation technology. She has successfully resolved channel marketing challenges across the spectrum covering to-partner, with-partner and through-partner marketing programs at global levels.
Click here to join Angela at the Mindmatrix-SiriusDecisions webinar on Wednesday. 13 September, 1PM EST/10AM PST.