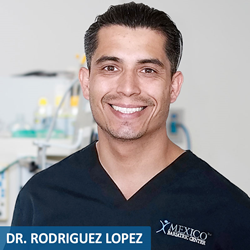 (PRWEB) September 09, 2017
Mexico Bariatric Center (MBC) celebrates the addition of its newest certified bariatric surgeon, Dr. Christian Rodriguez Lopez. In August 2017, Dr. Rodriguez Lopez, who has specialized in bariatric and metabolic surgery, officially joined the Mexico Bariatric Center team. Dr. Rodriguez Lopez has performed over 2,000 surgeries with an excellent turnaround for his patients. His patients have found him to be very dedicated to their health and well-being.
Since 2014, Dr. Lopez made bariatric surgery his primary focus. He is capable of performing a wide array of weight loss procedures, making him a significant asset to Mexico Bariatric Center. Procedures Dr. Lopez performs include the gastric sleeve, gastric bypass, mini gastric bypass, duodenal switch, lap-band, gastric balloon, single-incision gastric sleeve, revisional gastric surgeries, gallbladder, and hiatal hernia repair.
Ron Elli, Ph.D., owner, and CEO of Mexico Bariatric Center is excited and pleased to have welcomed the new surgeon aboard. Bariatric surgery in Tijuana is becoming an increasingly popular option for people dealing with an obesity problem. People who can not get medical insurance to cover the costs in the United States, Canada, and across the globe are flowing in. Many who are insured find the cost of their copay is higher than the affordable packages offered by Mexico Bariatric Center.
Mexico Bariatric Center was the first medical tourism company to limit the surgeries performed by surgeons per day for an optimal outcome. In fact, as a new member of the Mexico Bariatric Center surgical staff, Dr. Rodriguez Lopez will be performing three surgeries per day. By limiting the number of surgeries performed per day, Mexico Bariatric Center surgeons are able to ensure that the patient's safety is their number one priority.
Since the company started, MBC's approach has been copied industry-wide. Mexico Bariatric Center has helped thousands get the life-changing weight loss surgery and renew their lives. MBC was also the first company to hire a dedicated bariatric nutritionist and a surgeon liaison. Their dedicated nutritionist provides patients with the dietary tools for weight loss success.
Other expert surgeons on MBC team, headed by Dr. Louisiana Valenzuela Sanchez, are Dr. Ismael Cabrera Garcia and Dr. Alejandro Gutierrez. The Mexico Bariatric Center surgeons are certified and specialized in bariatric-related surgeries. These surgeons keep on top of industry trends, attending events and conventions across the globe, such as 2017 IFSO. Being in medical tourism industry over 10 years, MBC now has a surgical team with 10 years of bariatric surgery experience and 10,000 surgeries, collectively.