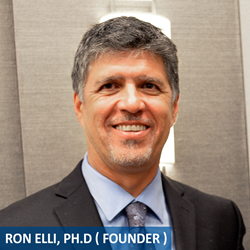 (PRWEB) September 09, 2017
Medical Tourism pioneer Ron Elli, Ph.D. celebrates his 10-year anniversary in the medical tourism industry. "It has been 10 incredible years, helping people successfully lose weight with bariatric surgery. We are looking forward to many more years to grow with this industry," Ron Elli Ph.D. says.
Ron Elli Ph.D. whose background is in bio-engineering has established a successful, award-winning business career in Northern California.  Before entering the business realm, Ron Elli Ph.D. was conducting original research in biomechanical engineering, having published the  "Flow Resistance in Pulmonary Airways," in the Journal of Biomechanical Engineering.
In 2002, Ron earned his Ph.D. from the University of California, Davis in "Numerical Modeling of High-Speed Flow". After his academic career, Ron Worked for engineering, software, and Internet consultant firms for 15 years. Recently, Dr. Ron Elli was profiled in Sacramento Business Journal as one of the most successful regional CEOs.
After becoming a regional businessman, Ron Elli was fascinated by the burgeoning medical tourism industry in 2007. He also got interested in addressing the ever increasing obesity epidemic and surgical treatment of obesity. Ron Elli, Ph.D. started consulting with companies helping people find health care abroad, specifically bariatrics in Mexico. After establishing his career in medical tourism, Ron Elli, Ph.D. founded Mexico Bariatric Center. His time in medical tourism gave him deep insights and understanding of this industry, allowing him to craft attractive, effective packages with top bariatric surgeons in Tijuana, Mexico.
Member of Medical Tourism Association (MTA) and Certified by MTA, Dr. Ron Elli keeps abreast of all the research and innovations in metabolic and Bariatrics. His vision to create high-quality, affordable bariatric packages in Mexico has enabled hundreds of people to get a new start in life. "We have changed the landscape of Medical Tourism industry in general and bariatric medical tourism in Mexico in specific. Tijuana is changing rapidly to accommodate medical tourists and is becoming a Mecca for weight loss surgery," Ron Elli, Ph.D. says. He continues "when we started promoting bariatrics in Mexico, there were a lot of skeptics. Now people from around the world, including doctors and nurses, are coming to get this life changing procedure."
Ron Elli, Ph.D. has been involved in continuing education of patients from the United States and Canada of what bariatrics has to offer and how to battle obesity and obesity related diseases. He has been actively traveling and holding informational seminars in U.S. States of Texas, Oklahoma, Louisiana, Washington, as well as Canadian Provinces of Alberta, and Quebec. Ron Elli, Ph.D. has also assembled one of the best team of certified bariatric surgeons with over 10 years experience and 10,000 bariatric surgeries, collectively. He has also put together a follow-up program to support patients after surgery for successful weight loss.
SInce inception in 2012, Mexico Bariatric Center (MBC), has grown dramatically helping thousands of patients find success with affordable bariatric surgery packages. MBC has contributed in drastic changes in so many lives. The quality affordable packages of MBC are a fraction of the cost of surgeries offered in the U.S. and Canada. Therefore, patients with low income, no insurance, and insurance with no coverage / high deductibles can fight obesity and its side effects by going to Mexico Bariatric Center.
As a leader in bariatric medical tourism, Mexico Bariatric Center is committed to the advancements in the bariatric industry. Mexico Bariatric Center was the first company to limit the surgeries performed by surgeons, which has since been copied industry-wide. MBC was also the first company to hire a dedicated bariatric nutritionist to offer the ability to consult free-of-charge for their bariatric patients.