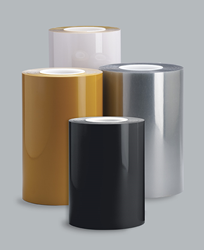 Polyonics innovative materials for harsh environments now include ESD-Safe models that also resist highly active fluxes and high levels of abrasion.
Westmoreland, NH (PRWEB) September 12, 2017
Polyonics, renowned for its innovative materials for harsh environments, will exhibit its newly expanded lines of durable label and tag materials on stand 7E36 at the upcoming Brussels Label Expo show September 28th through October 2nd. Visitors will see ESD-Safe labels that help protect ESD sensitive (ESDS) devices and also resist harsh fluxes, flame retardant labels, labels and tags specifically designed for the rigors of tracking hot metals and laser markable label materials for applications beyond the range of transfer printed labels.
Key new Polyonics products on display include;
XF-731 and XF-732 next generation polyimide label materials designed to withstand highly active (ORH1) fluxes found in circuit board manufacturing as well as resist abrasion when the label is contacted directly at elevated temperatures.
XF-733 (1mil) and XF-734 (2mil), gloss and XF-737 (1 mil) and XF-738 (2 mil) matte ESD-Safe label materials also include next generation topcoats for harsh fluxes plus provide low charging and static dissipative performances. These materials fully comply with the IEC 61340, ANSI/ESD S20.20 and JEDEC JESD625B standards for process required insulators for use in close proximity of ESDS devices.
XF-519 (PI), XF-803 (AL) and XF-808 (AL) transfer printable barcode label materials for inventory tracking in extremely hot metals processing facilities. These innovative materials provide durable topcoats that maintain accurate barcodes throughout the process plus the flexibility of applying the labels directly to the hot metals.
XF-608 (paper), XF-610 (white PI) and XF-612 (yellow PI) thermal transfer printable hang tags are designed for barcode or alphanumeric identification of extremely hot materials. These tags withstand the high temperatures encountered in metal processing applications and exhibit excellent tear resistance.
Visit Polyonics at stand 7E36 for samples, literature and/or to speak with our technical experts. For immediate information call +1-603-352-1415 or send an email to info@polyonics.com.