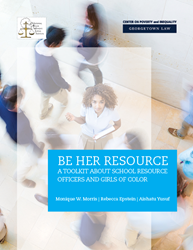 Black girls are four times as likely to be arrested at school as white girls.
WASHINGTON (PRWEB) September 11, 2017
School-based police officers lack training and support that could reduce troubling disciplinary disparities facing girls of color, new research from Georgetown Law's Center on Poverty and Inequality and the National Black Women's Justice Institute finds.
The new report, "Be Her Resource: A Toolkit about School Resource Officers and Girls of Color," is centered on first-of-their-kind focus groups and interviews with school resource officers (SROs) and girls to learn first-hand perspectives about their interactions. It offers strategies and guidance based on the findings to improve relations between SROs and girls of color at schools. The research was focused on the South, an area often overlooked in related research.
"Even as awareness of school-to-confinement pathways for girls has increased, and shocking images of SROs confronting black and Latina girls have continued to surface, little research has focused on ways to improve school-based safety for girls of color," said Monique W. Morris, the report's lead author, president of the National Black Women's Justice Institute, and author of PUSHOUT: The Criminalization of Black Girls in Schools. "This report shows how critical it is to understand and address the interactions between SROs and girls of color so that we can improve conditions that will ultimately keep every student safe."
Schools across the country increasingly rely on school-based police officers. Although no exact figures exist, SROs are estimated to number more than 19,000, up from approximately 100 in the 1970s. Although the purpose of these officers is to maintain safety and address criminal acts, an important unintended consequence is greater arrest rates and referrals in schools who retain them, with especially harsh results for girls of color.
Statistics reveal that girls of color are arrested and referred to police at school in disproportionate numbers. Black girls are 2.6 times as likely to be referred to law enforcement on campus as white girls, and black girls are almost 4 times as likely to get arrested at school. Disparities affecting Latinas are especially severe in elementary school where they are 2.7 more likely to be arrested than young white girls.
The report finds that only 21 states require SROs to receive youth-specific training for SROs, and, in particular, that SROs receive few, if any, training or resources that are focused on girls of color. Meanwhile, SROs have wide discretion in carrying out their duties, and the line between criminal law and disciplinary codes have become blurred. The new report finds that only 19 states require formal agreements between school departments and police departments that could provide key clarity regarding roles.
Report key findings include:

SROs described their most important function as ensuring safety and responding to criminal behavior, yet they report that educators routinely ask them to respond to disciplinary matters.
SROs do not receive regular training or other supports specific to interactions with girls of color.
SROs attempt to modify the behavior and appearance of girls of color to conform with mainstream cultural norms, urging them to act more "ladylike."
Girls of color primarily define the role of SROs as maintaining school safety. They define their sense of safety as being built on communication and positive, respectful relationships with SROs.
African-American girls, in particular, identify racial bias as a factor in SROs' decision-making process. African-American girls perceive that their racial identity negatively affects how SROs respond to them on campus.
Based on these findings, and with an eye to advancing action, the report presents guiding principles and policy recommendations that are designed to improve interactions between girls of color and SROs, with the ultimate goal of reducing these girls' disproportionate rates of contact with the juvenile justice system.
Key recommendations for school districts and police departments include:
Clearly delineate law enforcement roles and responsibilities in formal agreements.
Collect and review data that can be disaggregated by race and gender.
Implement non-punitive, trauma-informed responses to girls of color.
Offer specialized training to officers and educators on race and gender issues and children's mental health.
The report is part of a policy series conducted by Georgetown Law's Center on Poverty aimed at reducing unfairly punitive treatment of girls of color. "Girlhood Interrupted," released by the Center in June, found that adults view black girls as young as 5 as less innocent and less in need of protection than white peers, which may lead to harsher treatment by authorities.
The new report's detailed recommendations, which include providing officers with training to address adultification bias, are accompanied by hopeful examples of jurisdictions around the country that have taken steps to improve interactions between SROs and girls of color.
"Girls of color deserve to feel safe in our schools, and SROs need support and training to help that happen," said Rebecca Epstein co-author of the new report and executive director of Georgetown Law's Center on Poverty and Inequality. "This report offers key steps toward that goal."
The full report is available HERE.
###
Georgetown University Law Center is a global leader in legal education and the preeminent U.S. law school based in the nation's capital. A world-class faculty of celebrated theorists and leading legal practitioners offers students an unmatched breadth and depth of academic opportunities. Second to none in experiential education, the Law Center's numerous clinics are deeply woven into the Washington, D.C., landscape. More than 20 centers and institutes forge cutting-edge research and policy resources across fields including health, the environment, human rights, technology, national security and international economics. Georgetown Law equips students to succeed in a rapidly evolving legal environment and to make a profound difference in the world, guided by the school's motto, "Law is but the means, justice is the end."
Georgetown Law's Center on Poverty and Inequality works with policymakers, researchers, practitioners, and advocates to develop effective policies and practices that alleviate poverty and inequality in the United States.