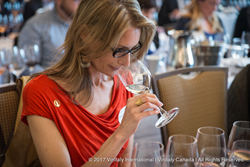 I believe that education is crucial to increasing appreciation and sales of Italian wine and the Italian Wine Maestro program is based on the most current and profound understanding of Italian wine. (Michaela Morris)
(PRWEB) September 11, 2017
The forthcoming Italian Wine Maestro program was designed by a number of Italian wine experts and professionals directed by Stevie Kim, Managing Director of Vinitaly International and founder of the Vinitaly International Academy (VIA). Kim has been working on the program with a number of specialists coordinated by the VIA Scientific Director and award-winning wine writer Ian D'Agata: Michaela Morris, Lingzi He, and Geralyn Brostrom, VIA Italian Wine Experts and experienced wine educators. Morris, Brostrom, and He also devised part of the material that features in the main course book Italian Wine Unplugged Grape by Grape, an easy-to-read reference book on Italian wine recently launched in digital version on Amazon (https://goo.gl/PUm47x). In the text book, the parts dedicated to the Maestro program have been singled out and highlighted, particularly the entries devoted to the most famous Italian grapes as well as the information required to pass the course Maestro examination. Drawing on D'Agata seminal contribution to Italian wine scholarship and education, the Italian Wine Maestro course also follows a grape by grape approach to understanding Italian wine.
The pilot program will run in Vancouver in mid-October. It comprises 24 hours of classroom teaching and wine-tasting divided into 8 three-hour sessions to be held on a weekly basis. At the end of the course students will sit a final exam consisting of a test with 50 multiple choice questions and a blind tasting of two wines. The dates and venue are still to be announced and will be communicated on the course webpage (http://www.italianwineunplugged.com/italian-wine-maestro/) in the next couple of weeks. The Italian Wine Maestro is a basic-to-intermediate level program that is geared to trade and enthusiasts and will also prepare candidates who wish to sit the VIA Italian Wine Ambassador program with D'Agata in Verona. 
The pilot edition will be taught by Michaela Morris, Vancouver-based wine writer, educator, judge and speaker. Morris has worked in all aspects of the wine industry for years and is currently the weekly wine columnist for the Westender newspaper and contributor to Taste, Quench, Meininger's International Wine Business and Decanter. She frequently travels to Italy where she has also been a judge for Vinitaly's 5 Star Wines Award, and guest speaker at conferences such as Wine2Wine in Verona and Collisioni Festival in Barolo. She owns a Wine & Spirit Education Trust's (WSET) Diploma and is one of only seven VIA certified Italian Wine Experts to date. She is now pursuing her Master of Wine studies. On the Maestro program Morris states: "I was honoured to be able to collaborate on the development of the Maestro program with Lingzi He and Geralyn Brostrom under the direction of Ian D'Agata and Stevie Kim. We invested an enormous amount of time, effort, and expertise into the creation of this course. I am now thrilled to take it to the next stage, putting the program into action and fine tuning it so that Vinitaly International Academy ambassadors around the globe will be able to offer it in their respective markets. I believe that education is crucial to increasing appreciation and sales of Italian wine and the Maestro program is based on the most current and profound understanding of Italian wine."
To date, a number of sommeliers, educators, importers, and wine store staff have already expressed their interest in the Vancouver pilot. Drawing on the feedback from the pilot attendees, Kim, D'Agata, and the Italian Wine Maestro team will develop the program worldwide in 2018. Kim comments on the pilot program: "I am dying to find out about the results of the pilot and the feedback, as I am looking forward to fine tune the program to make Italian Wine Maestro the gold standard for Italian wine education. Our goal is to offer, on the one hand, a rigorous and 'geeky' program and on the other hand to embrace a larger spectrum of Italian wine lovers, educators, and professionals to become evangelists for Italian wine. I would like to thank Michaela who made herself available to teach the pilot program. Her knowledge of Italian wine is profound and she is a very experienced teacher. She is really the best candidate to teach the pilot and help us fine-tune it, since she also contributed to the course handbook Italian Wine Unplugged."
Additional information on the pilot Italian Wine Maestro course can be requested at info@italianwineunplugged.com.
About: Italian Wine Maestro
The Italian Wine Maestro Pilot Program is an entry-level course dedicated to the world of Italian wine and its native grapes. The course (24 hours) is aimed at wine professionals with some background in wine and viticulture, but without any previous specific training in Italian wine. It is also open to wine enthusiasts with an interest in Italian wine culture and its rich grape biodiversity. The course follows a grape by grape approach to understanding Italian wine. After passing a final exam consisting of a multiple-choice test and a bling tasting of two wines, students will receive the Italian Wine Maestro certification.
 
About: Italian Wine Unplugged Grape by Grape
Dedicated to both wine lovers and wine professionals, Italian Wine Unplugged Grape by Grape is a concise yet comprehensive cultural and scientific introduction to Italian wine and its hundreds of native grape varieties. The ebook analyzes over 430 Italian native grape varieties in accessible and easy-to-read entries. It also features color-coded grape variety flash cards and an extensive visual apparatus with mind maps, photographs of grape bunches, maps of Italian wine appellations. Available on Amazon in beta version at the launch price of 9.99 dollars.