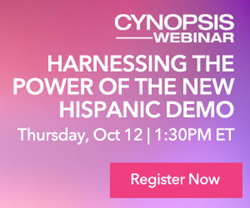 New York, NY (PRWEB) September 13, 2017
Cynopsis will host the October 12 webinar, Harnessing the Power of the New Hispanic Demo, offering new insights and data on evolving habits and behaviors destined to reshape the business. Crafting programming that gains a foothold with the Hispanic demo is critical for media industry players – this is where you'll get the information you'll need to connect and engage.
Lynn Leahey, Editorial Director for Cynopsis, will host the October 12 session along with the following speakers: Alma Derricks, CMO for El Rey Network; Cesar Martinez, SVP, Head of Sales & Brand Partnerships for MiTu Network, Inc; Laura Molen, EVP Lifestyle and NBCU Telemundo Enterprises Advertising Sales Group for NBCUniversal; David Tardio, VP Advertising Sales for Discovery Communications; and Adrian Waterston, SVP Insights & Strategy for Horowitz Research.
Sponsored by El Rey Network, the session will allow for Q&As to ensure specific questions are answered. During the interactive webinar, attendees will hear:

Which networks this demo most trusts (and why)
The types of ads they favor on social media, and strategies for creating social media campaigns to target them most efficiently
What kind of new content is most engaging
What motivates this mobile-first group of early adopters to subscribe to pay TV
How to reach Hispanic viewers on linear and mobile
Register your team today for the webinar, "Harnessing the Power of the New Hispanic Demo."
All attendees will receive full access to speaker presentations for 1 year. Tuition is based on location, not number of participants, so each registration site can have multiple participants for one low price. Questions? Contact Trish Pihonak at trish(at)cynopsis.com.
About Cynopsis Media:
Cynopsis is what the TV industry reads first every day. The Cynopsis family of products includes the media industry's most-read daily, Cynopsis, plus sister dailies Cynopsis Digital and Cynopsis Sports; weekly eSports, the Cynopsis Jobs board and special reports. Serving TV, agency and brand professionals, Cynopsis Media produces conferences, webinars, and awards programs that are second to none. Find out more at cynopsis.com.
###