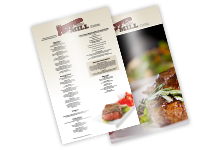 "We're excited to introduce laminated menus," says Mark Kral, Navitor's product manager for stationery. "It's a great time for our customers to bring a new product to the table."
North Mankato, Minn. (PRWEB) September 13, 2017
Navitor, located in North Mankato, MN, is pleased to announce the addition of laminated menus to their product offering.
Laminated menus pair full color print with a durable laminated coating that makes them durable enough for use in a restaurant setting. According to Mark Kral, laminated menus were introduced to help Navitor resellers better serve their customers, particularly those in the hospitality or restaurant industries.
"We're so pleased to offer our customers laminated menus alongside the personalized print they know and love," says Kral, Stationery Product Manager. "We're also excited that these products will be debuting online, because it allows our customers to easily upload their clients' artwork to create menus, check proofs, and track their orders alongside other print orders."
Laminated menus are available in four different sizes and three different fold styles. Menus are printed in full color print, which allows them to be personalized with text and full color photographs.
More information about Navitor and the company's selection of specialty printed products can be found at Navitor.com.
"We're excited to introduce laminated menus," says Mark Kral, Navitor's product manager for stationery. "It's a great time for our customers to bring a new product to the table."
About Navitor
Navitor Inc. is one of America's largest commercial wholesale printers, delivering innovative programs, services and technologies exclusively to our community of resellers. Headquartered in Minnesota and with manufacturing facilities nationwide, Navitor provides print resellers and distributors the industry's widest catalog of personalized print and custom business identity products. Navitor is part of the Taylor Corporation family of companies. For more information, visit our website at Navitor.com.