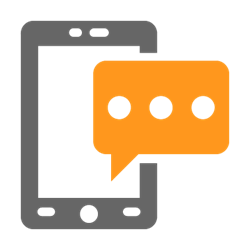 It's entirely possible that customers are trying to reach you via SMS right now.
Pittsburgh, PA (PRWEB) October 02, 2017
VoIP Innovations, the first wholesale VoIP provider to offer programmable API services, has announced their plans to start offering SMS services on numbers that are not on their network. You can also choose from several delivery options including API POST/GET, email, SIP, or forwarding of the SMS to another number.
Off-net SMS services are being offered in addition to their existing on-net numbers. Pricing for this new SMS service is as follows: 75¢ per month registration fee, $0.0085 per message for SMS, MMS capability coming soon and will be priced at $.003/message..
"With the increase in adults that grew up with cell phones, SMS is becoming a larger part of the world's real-time communication," said President of VoIP Innovations, David Walsh. "With a record 77% of Americans now owning a smartphone, SMS communication will soon become as important as email communication. It's entirely possible that customers are trying to reach you via SMS right now."
If you're ready to start receiving SMS messaging on your numbers , VoIP Innovations offer a number of different delivery methods to customize your service. From Email Forwarding and SIP messaging to an API call, the ability to choose your delivery method will allow integration to most existing systems.
VoIP Innovations can help you start receiving those messages that you may be missing. Just log into your account and click SMS > Add New DID and then check the 'Off-Network' box. If you do not already have an account, sign up now for a Free 14-Day Trial.
About VoIP Innovations:
VoIP Innovations, an Inc. 5000 company, provides the largest phone number and termination VoIP (Voice over IP) footprint in North America. Their network includes hundreds of thousands of numbers in over 8,500 rate centers across the US and Canada and in over 60 countries around the world. With the acquisition of Apidaze, a leading CPaaS (Communications Platform as a Service) provider, all VoIP Innovations services are now programmable. You can build you own services on their network or add voice, messaging, fax, and video to your apps, services or business processes. VoIP Innovations also offers a showroom for their ever expanding portfolio of telecom services, built on their Programmable Services platform. VoIP Innovations is owned by ABG Capital and is based in Pittsburgh, PA. To learn more, please visit the Blog at VoIP Innovations.