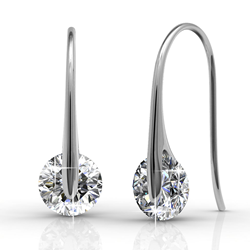 These Cate and Chloe crystal earrings are the most simple, yet elegant earrings in my collection.They reflect light and have such a incredible sparkle and shine, they're guaranteed to grab anyone's attention. - Cate & Chloe Customer
(PRWEB) September 13, 2017
Ever wish that all your fav designers where more attainable? Well Cate & Chloe has heard the call and has created a special collection featuring two necklaces and earrings that were designed and created with the modern woman in mind. With the use of real Swarovski Elements and Crystal it gives women the assurance that this is of excellent quality and will stand the test of time. A delicate and vintage- inspired collection that is a true standard to any woman's accessory collection that can be easily be transitioned from day to night, and from the office to a date with that special someone.
Each of these jewelry pieces feature a round cut center stone. The brilliant white stones and white gold blend harmoniously with each other making this new Amazon collection of jewelry illustrious and timeless! Each stone is carefully set into a rhodium plated basket setting with a high-polish finish, creating a sparkle and shimmer that will surely attract the eyes of others.
Looking for a simple and elegant accessory that is ageless? This is it! These womens accessories are delicate in design but with an irresistible beauty and timeless style! The perfect anniversary, bridesmaids, or best friend gift that says I love you. These are the earrings that she will always think of you in a loving and adoring way, no matter how bad of a day she may be having wearing this necklace will comfort and remind her of your love.
This new Cate & Chloe and Amazon partnership couldn't have happened at a better time,
with new celebrations, birthdays, and holidays around the corner it's imperative to have complete trust in both quality and punctuality. While Cate & Chloe will still provide the highest level of quality and timeless jewelry designs, Amazon will continue to bring trusted and timely prices and delivery for every customer.
For more information please visit https://cateandchloe.com/