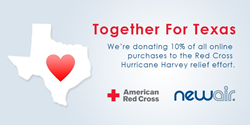 "Giving back to the community has long been ingrained in our company culture and values," explained Luke Peters, NewAir's CEO and Founder
Cypress, Ca (PRWEB) September 12, 2017
NewAir Appliances of Cypress, California has just completed a week-long fundraiser to benefit the victims of Hurricane Harvey.
Hurricane Harvey made landfall in Texas on August 25 and dumped approximately 50 inches of rain onto Houston and surrounding areas, causing record-breaking flooding and displacing tens of thousands of residents.
As they watched the devastation unfold on television, the team at NewAir Appliances knew they had to act. "Giving back to the community has long been ingrained in our company culture and values," explained Luke Peters, NewAir's CEO and Founder. "I recognize the contributions our employees have made to this company and feel a personal responsibility to support the local communities they call home."
In the wake of Hurricane Harvey's destruction, the NewAir team decided to extend that spirit of generosity and personal responsibility to Texas. NewAir pledged to donate 10 percent of all online appliance sales through September 8 to the American Red Cross. There was no cap on the total amount of donations.
NewAir also encouraged customers and the community at large to donate directly to the Red Cross via their sponsored CrowdRise page. CrowdRise is a crowdfunding platform that helps individuals and organizations raise money for the cause of their choice.
The NewAir team is proud of their work to raise money for Hurricane Harvey victims, and they plan to continue supporting charitable causes to lift up others in their time of need. "Our thoughts go out to all who must now rebuild their lives, homes, businesses and neighborhoods. We knew we needed to help," said Peters. "We thank everyone for their generosity in this effort."
About NewAir Appliances:
California-based NewAir Appliances is a family-owned manufacturer and distributor of luxury compact home appliances, including everything from beverage coolers to portable laundry solutions. Their wide range of products are carried by the largest retailers in North America, and NewAir is dedicated to exceptional customer service at their responsive in-house call center. NewAir's focus on value and quality over the past 15 years make them one of the most trusted names in home appliances. See all of their products at http://www.newair.com.
Follow NewAir Appliances on Facebook
Tweet us @NewAirUSA
Follow us on Instagram @NewAirUSA
Media Contact:
Andrew Stephenson Director, Product Marketing
Email: press(at)newair.com
Tel.: (657) 257-4326
Website: http://www.newair.com