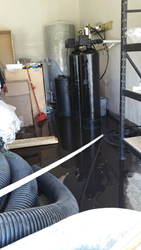 Santa Cruz, California (PRWEB) September 13, 2017
After Floods Residents are Encouraged to Have Their Water Systems Checked
Clean Water Systems & Stores Inc, a long time member of the Water Quality Association, reminds residents to have their drinking water tested by a certified lab and if necessary find water treatment products that have undergone independent testing for safety and performance.
Water treatment systems, water softeners and point of use water purifiers may need to be replaced or disinfected before being put back into use.
Visit Water Quality Association's website for the Associations Flooding Facts and Resources
Five Important Things to Know After Your Well Has Been Flooded:
1. WQA recommends residents affected by flooding use bottled water for drinking and cooking until they know for sure that their tap water is safe. The safety of a home's water supply, both private or municipal, may be affected by power outages.
2. Well owners affected by the storm are encouraged to test their systems and seek appropriate remedies as soon as possible. During and after flooding, water can become contaminated with microorganisms such as bacteria, sewage, heating oil, agricultural or industrial waste, chemicals and other substances that can cause serious illness.
3. Be alert for local boil water orders. Flooding can cause disruptions with a municipal water source, prompting officials to issue boil water orders in many communities. A WQA guide to boil water order notices can be found here.
4. Existing water treatment equipment should be inspected for possible contamination.
5. Residents should consider protecting their tap water either with a whole house system or at the tap treatment with a certified water treatment product depending upon the results of a water test. To have your water tested contact a water treatment professional or state certified lab.
Clean Water Systems & Stores Inc specializes in water treatment systems for contaminated well water in North America and around the world. The company provides custom easy-to-install whole house water treatment systems and commercial filtration plants in a large variety of different types and configurations including systems for removing iron, manganese, sand, odors, bacteria, turbidity and sediment.