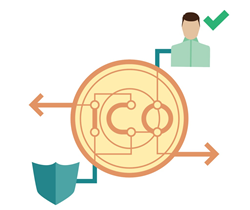 "IdentityMind had everything we needed to ensure our token sale was conducted lawfully and in accordance with worldwide rules and regulations," said Roderik van der Veer, CTO and co-founder of DataBroker DAO.
Palo Alto, California (PRWEB) September 12, 2017
IdentityMind Global, pioneer of Trusted Digital Identities, today announced the release of their risk and compliance solution for token sales and ICOs (Initial Coin Offerings). IdentityMind for Token Sales is a ready-to-go solution for companies looking to perform the necessary Anti-Money Laundering evaluation, including KYC (know your customer), on contributors. This can be performed prior to their participation (pre-sale) or in real-time during the distribution event. This solution ensures token sales and ICOs meet the existing regulatory requirements of various countries across the globe.
Token sales and ICOs are a new way to fund initial operations and expand existing operations. National regulators have already begun to take notice and issue statements mandating regulatory compliance. The United States, Canada, Hong Kong and China have issued statements in the last month alone. As a result, many companies that are planning an ICO or token sale don't have the knowledge of how they can comply, or the technology to help them comply. IdentityMind's Token Sales solution helps companies quickly and simply comply with these regulations.
The solution includes:
1) Preconfigured risk-based KYC process that meets the regulatory requirements of the countries where there are specified regulations, and that provides a general KYC process for countries where regulation has not been specified.
2) Platform to perform Enhanced Due-Diligence for clients that require further assessment.
3) Reports to satisfy examiners and regulatory auditors.
4) The ability to validate the risk of bitcoin and ethereum behind individual event transactions.
5) The ability of ICOs to pay for the IdentityMind service in BTC and ETH.
"IdentityMind had everything we needed to ensure our token sale was conducted lawfully and in accordance with worldwide rules and regulations," said Roderik van der Veer, CTO and co-founder of DataBroker DAO. "We were up and running in less than 72 hours. We are fully compliant and appeal to a wider range of contributors."
"Token Sales and ICOs are becoming more prevalent, and, as money flows into them, regulators are starting to take notice," said Garrett Gafke, IdentityMind Global CEO. "The regulatory risk, in conjunction with the risk of enabling fraudsters, terrorists, and money launderers, to operate in the financial market should motivate organizations performing Token Sales and ICOs to properly identify their contributors."
IdentityMind for Token Sales and ICOs is available immediately to companies worldwide.
About DataBroker DAO
DataBroker DAO is the world's first peer-to-peer marketplace for Internet of Things (IoT) sensor data. The global market for IoT sensors is $600 billion (USD) per year and growing rapidly. There are at least 9 billion sensors deployed globally, and this number is estimated to grow to 33 billion by 2019. DataBroker DAO provides sensor-owning organizations the ability to use an immutable ledger to store data, ensure its integrity, and create path to data monetization that never existed. Similarly, it provides academics, the agricultural sector, and smart city initiatives data they couldn't get otherwise, or data that would take years to acquire and cost hundreds of thousands of dollars, immediately.
Learn more about DataBroker DAO at – https://databrokerdao.com
Join Slack channel at - https://slack.databrokerdao.com/
Find DataBroker DAO on Facebook at - https://www.facebook.com/DataBrokerDAO/
Follow DataBroker DAO on Twitter at - https://twitter.com/DataBrokerDAO
About IdentityMind Global
IdentityMind Global™ pioneered Trusted Digital Identities (TDI tm) for digital commerce and financial institutions. The IdentityMind™ on-demand platform provides real-time risk management and compliance automation for leading Fintech companies, traditional banks and online merchants around the world. Using its innovative, eDNA™, it securely tracks the entities involved in each transaction (e.g. consumers, merchants, cardholders, payment wallets, alternative payment methods, etc.) to build payment reputations, and allows companies to identify and reduce fraud, evaluate merchant account applications, onboard accounts, enable identity verification services, and identify potential money laundering.
For more information, visit: https://www.identitymindglobal.com/ico