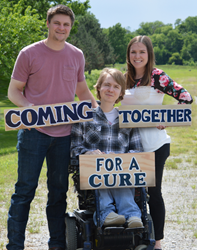 Wichita, Kansas (PRWEB) September 12, 2017
Wichita non-profit, Coming Together for a Cure (CTFAC), on track to surpass $150,000 in funds raised for adult stem cell research and therapy at their upcoming 8th annual benefit concert.
CTFAC founder Ryan Benton, currently battling Duchenne Muscular Dystrophy (DMD), is the first DMD patient in the United States to be treated with allogeneic umbilical* cord tissue-derived adult stem cells as a US FDA Investigational New Drug for compassionate use (IND 16026 DMD Single Patient). Ryan was diagnosed with DMD at the age of three and wasn't expected to live past his late teens to early twenties. He began receiving adult stem cell therapy at the age of 22 and is now 31. Ryan, along with his siblings Lauren and Blake Benton, created Coming Together for a Cure in 2009.
On Saturday, September 16th, CTFAC hosts its 8th annual benefit event, Concert in the Country, featuring Texas country music group Whiskey Myers. Doors open at 6:00pm, with food trucks and a beer garden for guests to enjoy. The event takes place just 10 minutes north of Wichita at 73rd St N and Tyler Rd. The concert is held on a beautiful, rural lakeside property which provides for a unique concert experience. Tickets are $20 in advance and may be purchased at the CTFAC website. All proceeds from CTFAC and Concert in the Country help fund treatments for Ryan as well as raise awareness and support for others with DMD. Proceeds also benefit others with similar diseases who are in need of adult stem cell therapy.
The 8th annual benefit concert is poised to be the most successful yet as they build off of their previous year's success where they raised nearly $40,000 and had nearly 1,500 people in attendance.
To purchase tickets, or to make a donation, please visit the CTFAC website.
 
About Coming Together for a Cure
http://www.ctfac.net/
Coming Together for a Cure is a non-profit organization founded by Ryan, Lauren, and Blake Benton in 2009. Together, the three siblings founded CTFAC to raise awareness and funds to support further adult stem cell research and therapy.
 
About Cell Therapy Foundation
https://celltherapyfoundation.org/
The mission of Cell Therapy Foundation is to improve public health through the support of effective adult stem cell research and education by advancing basic and applied knowledge, processes and therapies.

Umbilical cords donated by mothers following normal, healthy, live births.