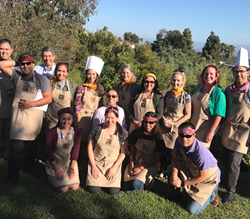 SAN DIEGO, CALIF. (PRWEB) September 12, 2017
It wasn't just the San Diego temps that soared this summer. Over the past few months, it has been hot, hot, hot, as Lajollacooks4u has had a record-breaking number of guests for corporate cooking challenges, team events and group cooking classes.
Guests came from far and wide to celebrate company outings, family get-togethers, anniversaries and milestone birthdays. While all groups gathered in Lajollacooks4u's signature venue atop Mt. Soledad in La Jolla, Chef Jodi Abel also led a handful of "Foodie Tours" through San Diego's food scene, which included trips to local farmers' markets and other specialty food shops.
Team-building events were also especially hot this summer. Among the groups that joined Lajollacooks4u were a luxury car manufacturer, a global pharmaceutical company and an international consulting firm. Each event began with an olive oil tasting competition, and after members were broken up into groups, they engaged in a little friendly competition to perfect each recipe of their customized menu. Lajollacooks4u's signature team building style enables teams to exercise good communication and build a sense of team unity, while also establishing camaraderie between colleagues.
Although summer is quickly coming to a close, Lajollacooks4u is looking forward to a number of exciting events and engagements that have already been scheduled for fall.
For more information on the company's corporate team-building event packages and group cooking classes, please visit http://www.lajollacooks4u.com.
To join the company's newsletter (and get 10% off a future booking), please visit https://81E58.campgn4.com/FallPromotion.
About Lajollacooks4u:
Lajollacooks4u, founded in 2008, provides a unique culinary experience for corporate cooking challenges and special events in a magnificent setting overlooking the Pacific Ocean. Based in La Jolla, California, Lajollacooks4u has enjoyed record growth since its inception and has been ranked as the top in its category by the popular travel review site, Trip Advisor. Chef Jodi Abel also recently released her cookbook, Lajollacooks4u: California Cuisine, an accumulation of the favorite recipes her guests have been raving about. For more information about her cooking events, as well as her cookbook, please contact jodi(at)lajollacooks4u(dot)com.